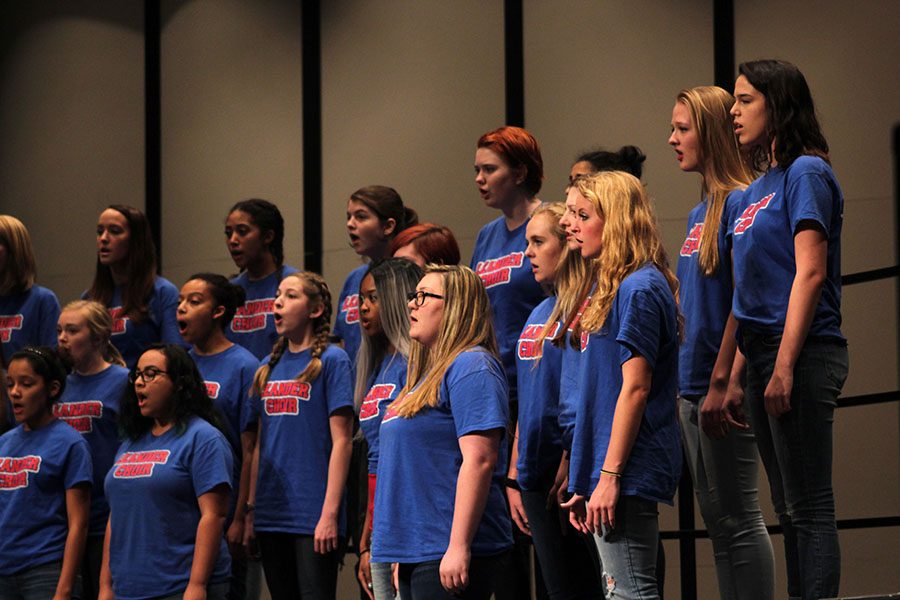 Kyle Gehman
Students screamed at the top of their lungs, jumping and hugging each other the moment they realized they had won sweepstakes. A week of UIL ends with three choirs with plaques to add to the collection. Lionheart made sweepstakes, all ones, and Varsity Women's choir made all ones in sight reading. They also made two ones and a two in concert.
"It was really enjoyable and rewarding," junior Lionheart soprano Lee Rozenfeld said. "I felt like the entire choir joined forces and created some amazing music. I like that's it's not necessarily about the trophy or winning title; what's important is that we felt as though we did our very best both in concert and sight reading."
In preparation for UIL there is a Pre-UIL concert held, allowing parents to see what their kids have been working on and students the chance to hear themselves and eachother.
"I also feel that our section and the entirety of the choir has bonded greatly in the process," Rozenfeld said. "UIL was an opportunity to showcase what we're truly capable of. We had fun and gave it our all."
The UIL process starts with a quick warm-up in a practice room and then the concert performance in front of three judges. After the concert portion the choir goes straight to the sight reading room and is given a piece that they read in front of the judges that they have never seen before. The choir director, Mr. Wiley, calls it the forth piece.
"It showed how we as a choir evolved and grew from where we started," senior Lionheart bass Efrain Olivo said. "It was a statement to all the hard work we have done. We deserved the superior rating we got and I couldn't be any prouder."