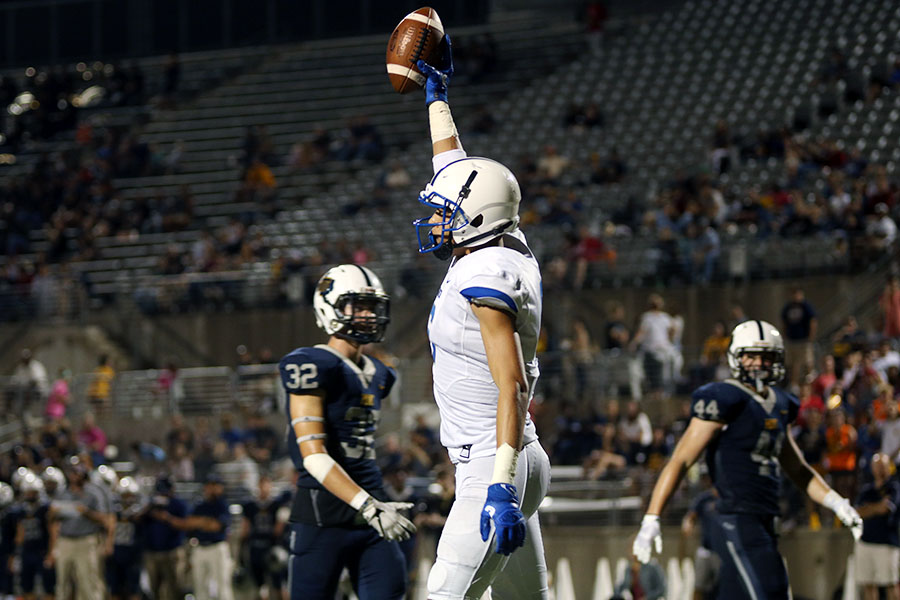 Kyle Gehman
The Lions moved to 0-4 last night as they lost to the Stony Point Tigers 14-49 in the last Thursday game of the year.
"[It] was a really physical game; Stony Point is a very physical program and they pride themselves in that," head coach Tim Smith said. "The Lions gave their hearts but some of the younger kids need to continue to improve, and we took a little step back last night offensively."
The Tigers scored first halfway into the first quarter after driving down the field to run the ball in from the 7 yard line. However, minutes later the game was tied up after a trick play resulted in the pass to junior Latavius Brown for a touchdown. Stony Point fought back and scored two rushing touchdowns to end the first quarter in the lead 7-21. The second quarter was very back and forth with only Stony Point scoring the final touchdown of the half to lead 7-28.
"We were all upset and frustrated," senior Dyson Jones said. "At the same time we knew that this game was something we could build off of and use to help us prepare for district play."
The Tigers scored again first after the break with a one yard rushing touchdown. The offense responded shortly after with senior Dalton Flowers catching his fourth touchdown of the year to make the score 14-35. King would then intercept the ball on the next possession, but the Lions were unable to convert for any points. The game started to slip away further in the fourth quarter when the Tigers scored two touchdown passes. The game would finish this way at 14-49 Stony Point.
"We are not a bad team," senior Noah King said. "The effort is there we just have a few things to adjust. [The defense] have to keep tackling and staying in shape. We might change some things up but nothing is set in stone."
This week will be a bye week, meaning the Lions' next game will be against Vista Ridge at Gupton Stadium on Friday, October 6 starting at 7:30 p.m.