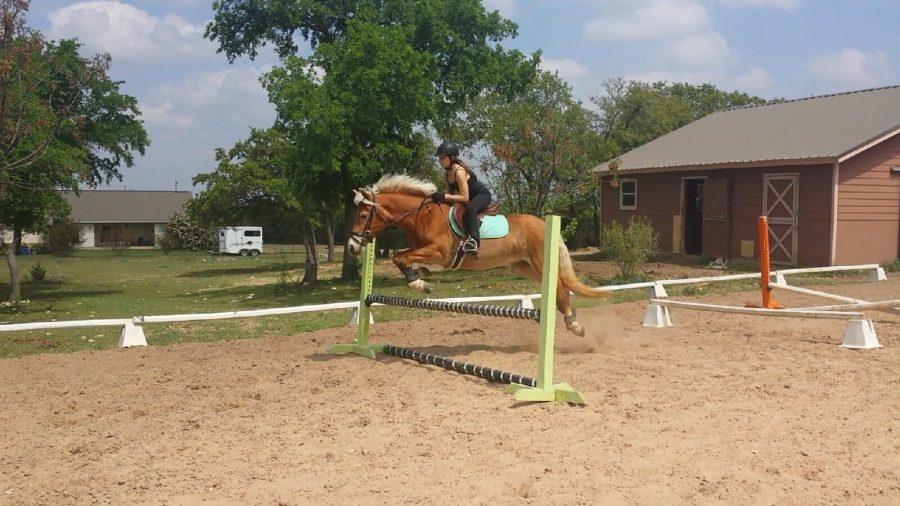 Careera Crocket
Every day after school she goes to her safe place in Liberty Hill, Texas. The smell of hay and grass makes her feel at ease. As she arrives inside of the barn, she feels her mind start to clear of all the worries she had before. She spots her favorite horse Paisley and goes to get her saddle.
Sophomore Lexi Cruz was introduced to riding when she was eleven years old. That strong rushed feeling she got in her heart the very first time she rode was what made her decide to come back to Mrs.Crockett's barn every day after school from then on.
"If I hadn't met Alexis or had Mrs.Crockett as my science teacher, I wouldn't be here," Sophomore Lexi Cruz said. "I definitely don't think I'd be as happy either."
Cruz also gets paid for teaching kids as young as three years old how to ride and take care of horses.
"It takes a lot of responsibility," Cruz said. "You're responsible for making sure the horses are safe and tamed as well as each child you teach."
There are a multitude of different styles of riding such as English, Western, Event, Jump, Western Pleasure, and Cross Country. For Cruz, her favorite style is eventing which is training horses to compete and win titles.
"When I'm at a show I have to make sure my horse doesn't get out or act up," Cruz said. "Most of the time they're really well behaved."
For Cruz, the best thing about riding is winning horse shows because it makes her feel like she's worked hard.
"It's not challenging for me to balance school and riding because school comes natural to me," Cruz said. "Part of the reason why I chose to ride horses is because it's flexible for me to do my homework and then in my downtime go to the barn."
Cruz receives lots of support from her family. Not only do they support financially by paying for riding equipment, they also go support her by going to her shows and cheering her on.

"I want to be a doctor when I grow up, but I also want to do what my teacher did and raise horses and teach kids on the side," Cruz said. "I think it would be hard if I ever had to give up riding."