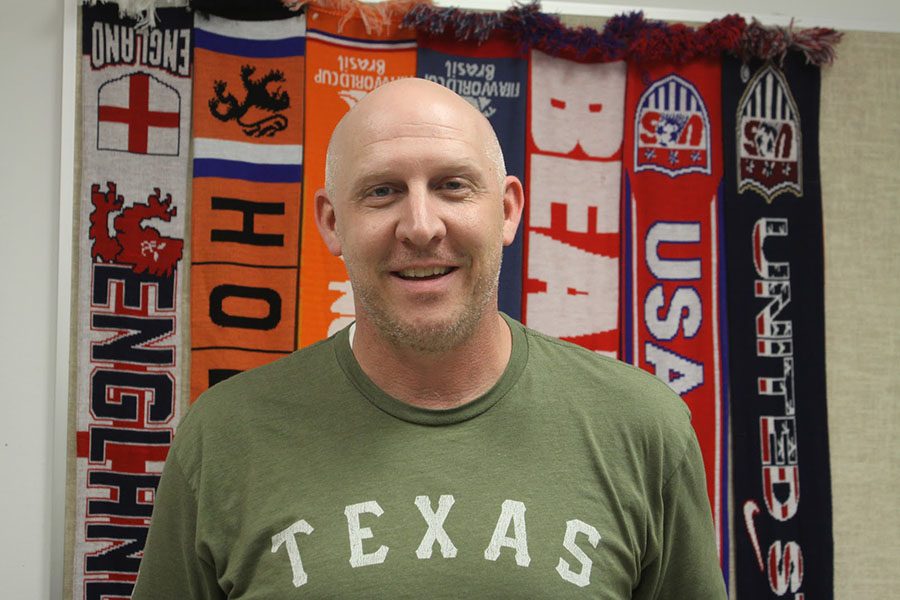 Bri Branscomb
The whir of saws and smell of paint fill the air as theater director Chuck Harris steps into what has become his second home. People are everywhere, and doing every type of job needed to bring his creation to life. Chatter and laughter reverberate off of the walls and give this hectic setting a feeling of family and togetherness as they work together to build another acclaimed set for the years musical, Anything Goes.
"I learned [set building] through trial and error, videos, and research," Harris said. "Having a visual idea of what you want helps. Parents and students [working to build sets] is a big help too. It's all about collaboration and relationships. You have to let them know their worth, otherwise they don't work with you."
Harris came to here after working at 7 different schools teaching theater and band, and at several churches as a creative pastor over the course of 23 years. He works with Head Director Linda Major to make the shows that the school puts on every year.
"My neighbor two doors down is Mr. Trejo," Harris said. "He told me I should interview for the job. I said that I'm not necessarily a tech director. I ended up interviewing with Major and Spicer, and told them I was willing to learn [how to be a tech director], and got the job."
Harris is the fourth technical director the school has had over the course of five years. His hopes are to be our only for a very long time.
"I've finally found somewhere I enjoy living," Harris said. "I love Austin. I like the kids [in the department] and the fact that the fine arts staff is committed to excellence. I'm not interested in any other positions."
Harris got his start as a teacher of the fine arts in 1993, as a teacher of band and elementary music in Dublin, Texas.
"I took a band that wasn't very good and made back to back division ones with them," Harris said. "[The band] grew from sixty kids to one-hundred-twenty kids in the three years I was there."
At one of the schools Harris taught at, there was no one act play program or director before his arrival. In his first year, their one act play advanced to area, the third level of competition in UIL one act play.
"It felt good to accomplish something with a bunch of kids I've never worked with before," Harris said. "I've only ever been a part of my own theater departments [before coming to Leander]. We didn't have the resources, teachers, or room to practice."
Coming to the school, Harris found himself able to focus on one aspect of the making of a show without having to try to do all of it by himself.
"At my other schools I did everything," Harris said. "I directed, I did teach, I did costumes, I did it all. So here, being able to focus on the technical aspects is nice because it's a team effort and I'm not responsible for everything."
Harris came here last year, and has since helped put on productions of the school fall show, musical, and one act play. He is largely responsible for the creation of sets such as the ship from the musical Anything Goes, or the backyard setting from this year's one act play, Picnic.
"Major has created a tradition of excellence," Harris said. "She is very consistent. In all the years she has been here, Leander has only not advanced out of district [for one act play] three times. I hope we continue to excel and see good work that changes people."
Harris was inspired to teach by his own parents and grandparents, as he comes from three generations of teachers. He became a fine arts teacher due to his time spent acting in high school, college, and community theater.
"[Theater] is telling stories," Harris said. "You can write, tell, sing, or play a story. One of the founding fathers quotes is 'I study law, politics, and war so that my children may study poetry and art'. [The arts] are vital to humans."
Harris has also had an impact on the students in the theater department.
"[Harris is] an incredibly hard working individual," junior Matthew Kennedy said. "He is very creative and portrays what he wants and needs. He's very committed [and] will do anything to better our department."
Also working with Harris and the theater department are the other fine arts departments. Their combined efforts over the years have resulted in the musicals and shows that the school has put on.
"The fine arts staff is committed to excellence," Harris said. "We all get along really well. We all have a common goal to make our fine arts the best. There is no one unwilling to work here. We all take pride, and are able to work together to make the best [shows]."