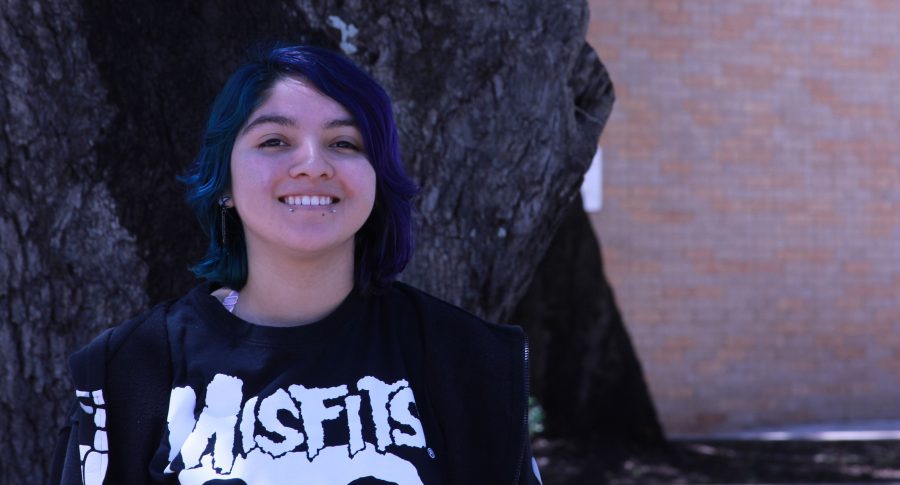 Lyn Cheely
Over the last few years, controversy has arisen regarding the correlation between intelligence, attitude and physical appearances. Assumptions are made by employers, teachers, and peers alike regarding the character and intellect of an individual based solely off of style and hair color. Sophomore Abigail Morales, however, serves as evidence that these assumptions are often far from the truth.
Morales has purple and turquoise hair, in addition to ear piercings and snakebites (lip piercings). Her interest in having her hair dyed peaked in middle school, and was inspired by her reflection on others, like her favorite bands and her sister, who had delved into certain forms of body modification.
"When I started listening to different bands, I noticed how they dressed and I noticed their tattoos," Morales said. "It was all different, and although they often wore black they'd also have colorful 'get-ups,' and would express their music through bandwear and other merchandise with artwork. It was fascinating to me."
She found that it was easy to pursue new looks and creative dressing concepts when she realized that they gave her the same freedom they had given others.
"I was still trying to find my self, I didn't know who I was or what I was doing," Morales said. "I saw how people would dye their hair and achieve different looks to express themselves, and I decided I wanted to try that too. When I saw people with piercings and dyed hair, I thought they had the guts to express themselves, and I was impressed by the fact that they did it despite other people telling them who they can and cannot be."
After finding the opportunity to begin experimenting with hair dyes and piercings in high school, Morales began to turn her focus back to her studies. Graduating and moving on to a good college to pursue her dreams has become her main goal.
"I make mostly A's, although sometimes I make high B's in classes I don't like as much," Morales said. "My favorite class by far is English. I actually enjoy learning SAT vocab. I'm working hard because there are 2 colleges I want to go to; Berkeley or Fullsail University."
Morales' focus on making it to Berkeley or Fullsail University stems from her interest in music.
"I want to go to those colleges because I really want to study music," Morales said. "Music speaks to people and allows them to express themselves, and in a sense 'find' themselves. Being a music producer would be ideal because I would have the opportunity to show the world the beauty in different individuals' talents."
So with colored hair, piercings, black clothing, a cool demeanor, and good grades, Morales cannot fathom how her appearances reflect on her abilities. Interestingly enough, however, Morales has found in her experiences with others that they have little to no expectation of her having such a strong work ethic and determination to succeed.
"When people look at me, many of them think that I might be misbehaved, or that I might be a delinquent," Morales said. "I think that's ridiculous because you can't judge someone by their appearances. You have to meet them first, and see who they are as a person. Making the assumption that my unnaturally colored hair means I'm not smart, or caring seems very misguided and stereotypical. Give people you meet a chance! Everyone is different."