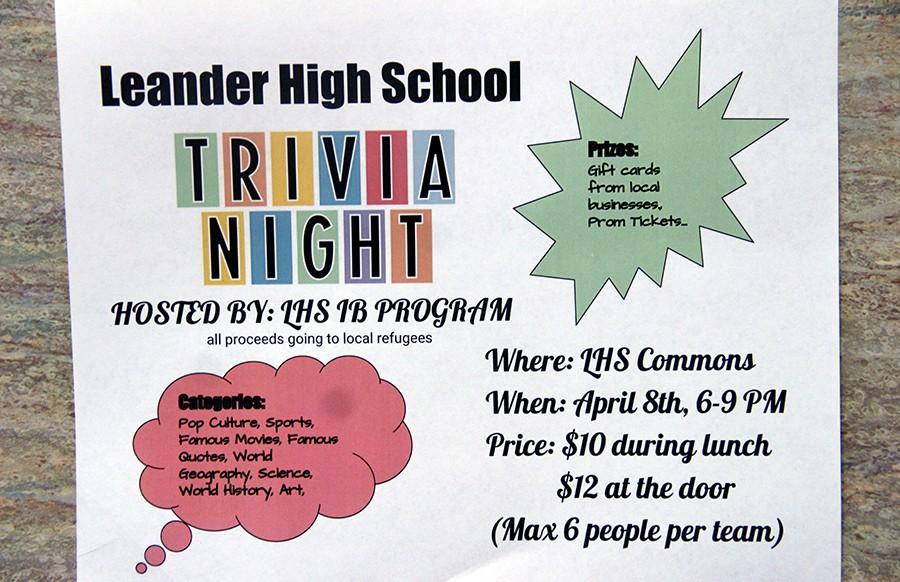 Kyle Gehman
With the goal to raise money for local refugees, the IB seniors hosted a Trivia Night on April 8 in the Commons. There were two options discussed on who to donate to and the seniors voted to donate to immigrants because of the latest Syrian refugee crisis
"Trivia Night was a way better experience than I thought it would be, honestly," sophomore Megan Marshall said. "I was surprised at how great the turnout ended up being. Though my team had no clue on a lot of the questions, it was fun thinking up insane answers to give as placeholders."
All the profits raised were donated to homeless immigrants through Casa Marianella. They raised approximately $400.
"We hoped to make a difference in the lives of refugees seeking asylum by donating as much money as we could to Casa Marianella," senior Alexis Satterfield said. "This is an amazing accomplishment, and the IB seniors are ridiculously proud and excited that we get to aid homeless refugees in such a large way."
There were several prizes for the winners including two prom tickets and gift cards to Chic-Fil-A, Marcos and Menchies. The categories the teams were quizzed on is pop culture, sports, movies, famous quotes, world geography, science, world history and art.
"When I heard about the trivia night on the announcements, I was honestly unsure of how it would go about," Marshall said. "The atmosphere was just extremely chill, and I feel that everyone who participated including myself, was entertained."