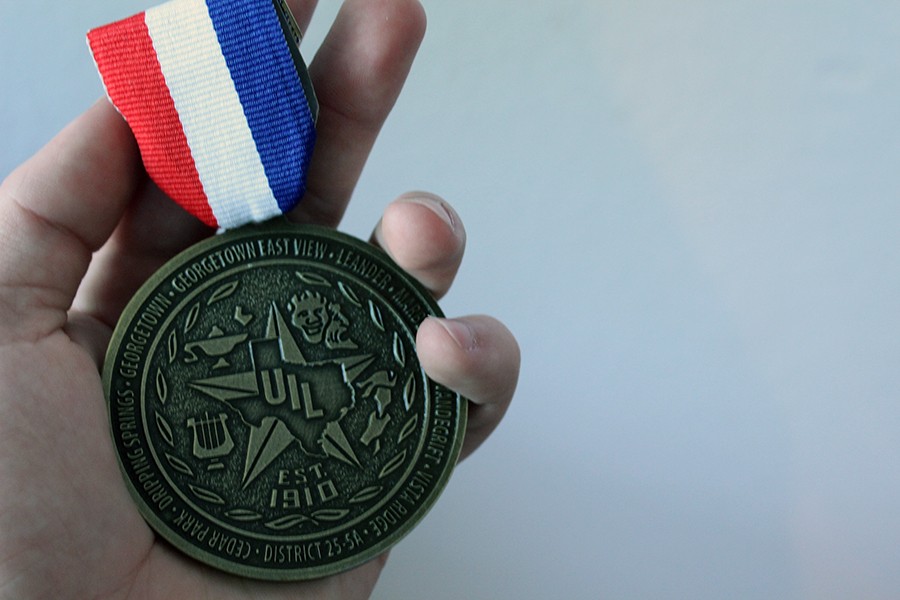 Austin Graham
Junior Austin Graham placed 1st in Editorial Writing at the UIL Academic district meet at Georgetown High School. Graham will move on to Regionals at the University of Texas at San Antonio campus on April 23. Senior Garrett Gage placed 6th in News Writing, and freshman Michelle Parker placed 5th in Feature Writing and 4th in Copy Editing.
"I think I have a decent chance of doing well," Graham said. "The competition will definitely increase which will make it harder to do as good as I did at district. I would be very excited and almost flabbergasted to advance to state. Advancing to state would almost mean that I would automatically qualify for scholarships for any college in the state of Texas."
In other academic categories, senior Anthony Leeber placed 6th in Social Studies, junior Nathan Young tied for 6th in Current Issues and Events, senior Gage Spencer won 3rd in Lincoln-Douglas Debate and will advance to regionals at UTSA. 
"Gage has a good chance of being in the top four," speech and debate teacher Mr. Terry Hunt said.
Junior Brianna Townsend placed fourth in Lincoln-Douglas Debate and is an alternate for regionals. Sophomore Devin Bowman advanced to quarterfinals and lost on a 2-1 decision to the eventual winner of the district meet. Junior Jacob Vaughan placed sixth in Prose Interpretation and senior Hunter Jones placed sixth in Poetry Interpretation.
"We have done very well in academics," Mr. Hunt said. "The momentum is in our favor going into regionals."