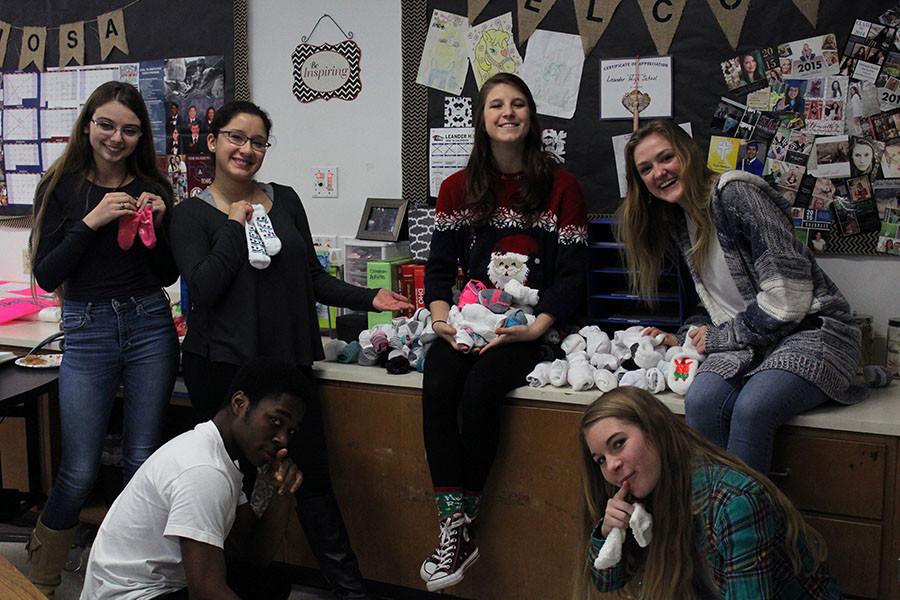 Austin Graham
During the winter season, it is a well known fact that temperatures drop. Socks can come in handy during these times to keep feet warm from the cold. Last year and this year as well, HOSA has had a sock drive to collect socks for the kids at Dell Children's Hospital.
"We're planning on donating to Dell Children's Hospital, last year we also donated it somewhere else though, because we had so many extra socks," president of HOSA senior Katie Pitchford said. "The whole goal of it is because during the winter your feet get cold so we're wanting to give them socks to keep them warm, but also we decorated the bottom of them with puffy paint to make them slip proof so that they're not gonna be slipping or sliding around in the hospital."
The hospital serves a 46-county area and is the biggest children's hospital in Central Texas. They believe that children are not small adults and have special healthcare needs in which they care to. 
"We just thought it would be a fun thing because it gets our whole group involved, we can decorate them during meetings and it's kind've a fun arts and crafts thing where people can get creative," Pitchford said. "It's going towards a good cause and it's relevant at that moment because it's cold."
To some people, something as simple as a pair of socks may mean nothing, but to others it can make a huge difference.
"It's great knowing we are able to show that we care and support the children who are fighting disease and for them to know that someone cares," vice president senior Bobbette Luton said. "It's great to know you are a part of that."