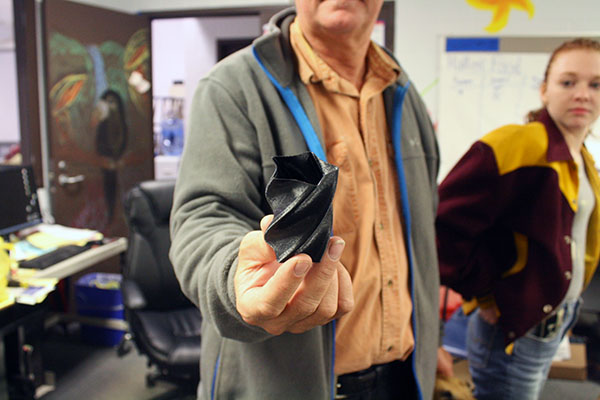 Michelle Parker
Meticulously spitting out hot filament, this printer is unlike the hundreds found within the school. While most are 2D, this 3D printer can make whatever concoction dreamed up, so long as it fits into a 8x8x8 cube of course.
This state of the art technology is used in the Robotics class and club, SkillsUSA club, and Introduction to Engineering and Design. Behind it all is teacher Herb Wasson, who received the printer through a grant from 3M a few years back.
"It helps students visualize what they're doing," Wasson said. "It's one thing to design it on the computer whereas when they actually 3D print it, they can see how it physically fits together, where they maybe made a mistake or need to modify it."
Used frequently in all classes, the printer serves a multitude of purposes.
"We usually use it when we can't build [the project] ourselves or for a prototype," sophomore Justin Beller said. "When [the project is] something too hard, too manipulative, or too expensive to make [we use this]."
Wasson and his students have also used the printer to aid several departments, like Agriculture and Theatre.
"We built the tech people compressors to blow the dust out of their computer," Wasson said. "We've done some printing for Tech Theatre. They wanted emblems which were actually 3D printed. We've 3D printed parts for the Ag people. We converted a refrigerator into an incubator for them and the casing is all 3D printed."
A few years back, the printer was used to make a prosthetic hand for a young Leander resident.
"[The SkillsUSA team] not only helped Zaxton [with the hand, but built] another piece," Wasson said. "He couldn't ride his bike because he couldn't hold the handlebar. So, they made him a vertical piece that he could grip and attach to his handlebar to ride his bike. They went above and beyond. They went to nationals with that."
The possibilities are endless for this cutting edge technology, located in a brittle building off of the school's main structure.
"It gives you a chance to take a concept, create it, assemble it, and make sure it does what you want," Wasson said. "Rather than going through the trouble of manufacturing it out of actual metal."