Wolfsbane
By Alexandria Ceballos
   Wolfsbane is the thrilling sequel to the bestselling book Nightshade by Andrea Creamer. The book takes place after the events of Nightshade. After saving Shay from the hands of the Keepers, Calla finds herself in the layer of her former master's enemies.
Desperate to save her pack and Ren, the guy she left at the altar when she made the choice to save Shay. Calla has no choice but to form an alliance with them. There, we learn the truth about who Shay is and who his parents are and how he fits into Calla's hidden world. We also learn about the origins of the Keepers and learn that they are not who they claim to be. And that Calla learns the truth about her real history.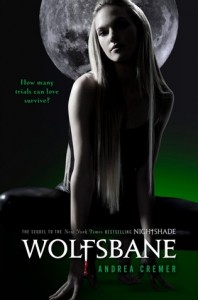 Once she returns to Vail, she realizes that a lot has changed since she fled with Shay.  Calla learns that her brother and members of her pack have been imprisoned and many of the Guardian's have sworn allegiance to only one new pack. She is consumed with dark feelings that she had betrayed Ren when she chooses to leave with Shay. By joining the Searchers, Calla would do anything to save both her pack and Ren from the cruelty of the Keeper's and rid the world of their magic once and for all.
   Creamer has done it again as Wolfsbane took my breath away. Filled with fierce battles and betrayal, this thrilling sequel kept me reading to the very end. We are introduced to the Searchers and the history of the beautiful and cruel world that Calla has lived in her whole life. Be sure to look for Bloodrose, the third and final book in the trilogy that comes out January 24, 2012.