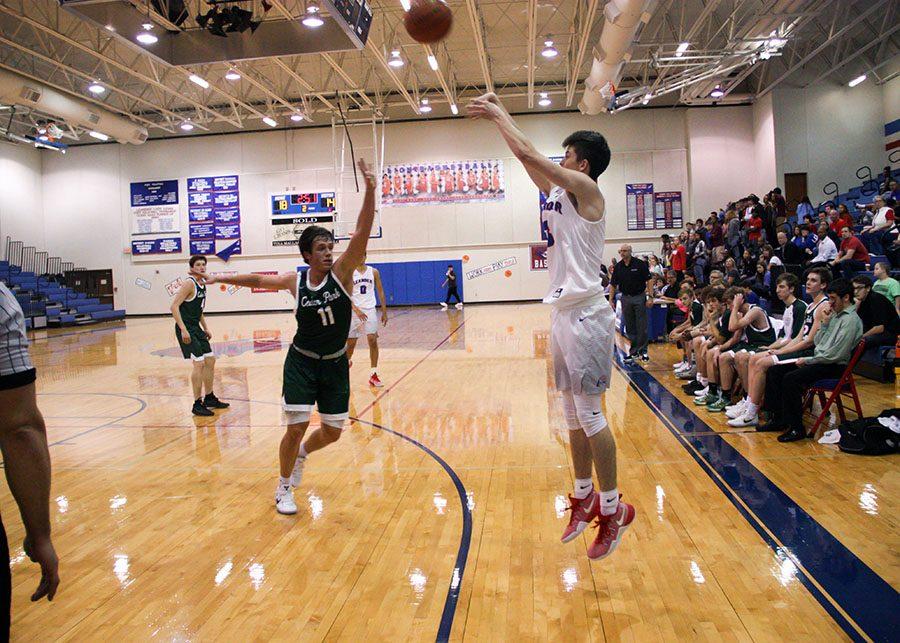 Ty Schaffner
The Lions won against the Hays' Rebels 68-56 on January 10th, fell to the Lake Travis Cavaliers, then won against the Westlake Chaparrals 74-57 on January 17. Their win against the Rebels marked the third in a row for the varsity team but their fall to the Cavaliers ended their winning streak on January 13.
"I think our defensive stops at the end of the game helped clinch our win [against the Rebels]," senior Cody Bayer said. "Winning these first three district games feels great."
The Lions lead their game against the Rebels and Chaparrals, scoring 43 and 74 points respectively in the first halves. Seniors Kobe Thompson and Chase Cotton both scored 12 points each during the game against the Rebels. 
"Our team did a really good job on defense," Cotton said. "We held a really good offensive team to less points than they're used to."
"It's exciting to think that we could go [further] for this season," Bayer said. "I [feel] more confident and relaxed."
After these consecutive wins, the Lions fell to the Cavaliers in a close game, despite leading for the first three quarters.
"If we could have rebounded it better in the second half, we could [have] had a great chance at winning that one," Bayer said. "We ran our set plays and offense well against their defense."
The team has played 19 games this season, making their win/loss record 12-7.
"We were very disappointed in our loss but we just have to move on and get ready for [the next] game," Bayer said. "I'm feeling excited and a little nervous… But [I am] definitely up for the challenge."
The team will play the Lehman Varsity team on January 20th in an away game.
"I'm feeling really excited about our next game against Lehman," Cotton said. "We must not over praise our last game and come out too confident or else we'll lose."