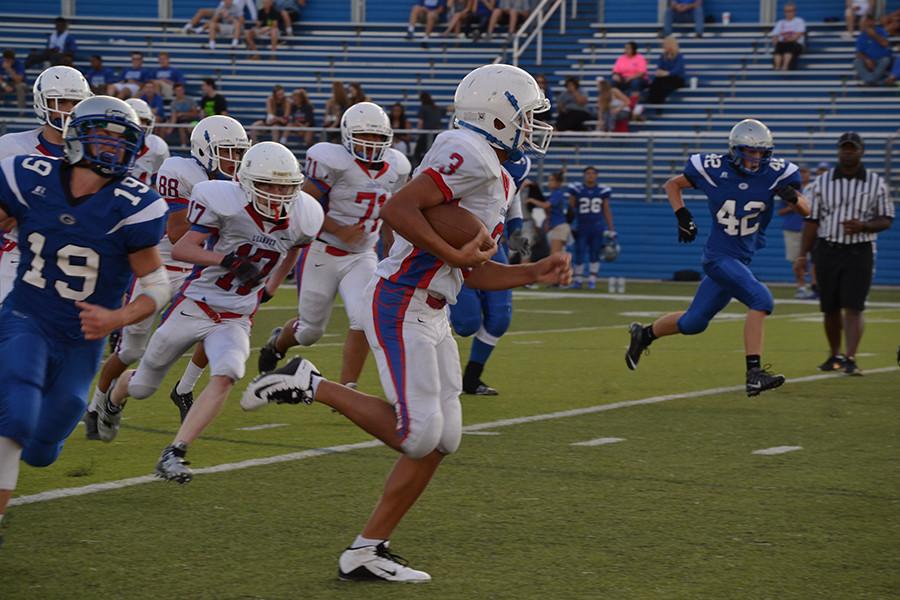 Lauren Pohl
Both of the JV teams went 1-1 against the Georgetown Eagles. The Red team lost with a score of 48-6 and the Blue team won with a score 32-29.
"We all did our job and played our best," sophomore Jeremy Kracy said. "The team is full of energy and [we will be] ready for next week."
The Red team's defense had a tough time against the Eagles offense who scored 48 points. Sophomore Brandon Fisher-Jones tried to keep the team's spirits high by encouraging the team to never give up. The offense was kept at bay by the Eagle's defense throughout most of the night but sophomore Lukas Boeck put the team on the board scoring one touchdown.
"We struggled this week,"  Fisher-Jones said. "Even so, we're all keeping our heads up and we will come back stronger next week."
The Blue team came up top against Georgetown to keep their record 4-0. The Blue team's offense was led by quarterback Kyle Irlbeck, linemen Thomas McGinnis, left tackle Donny Keelings, and wide receiver Jacob Egelsee. Irlbeck connected with his receivers throughout most of the game and scored one touchdown himself while the boys on the line protected the running backs and quarterbacks during the game.
"It feels good to be on a winning streak," junior Vincent Cash said. "All of us really feel like we have achieved something and we are all in very high spirits. We are looking forward to next week so we can defend our streak."
Both teams will face Vandegrift this Thursday starting at 5:30 the Monroe Memorial Stadium.