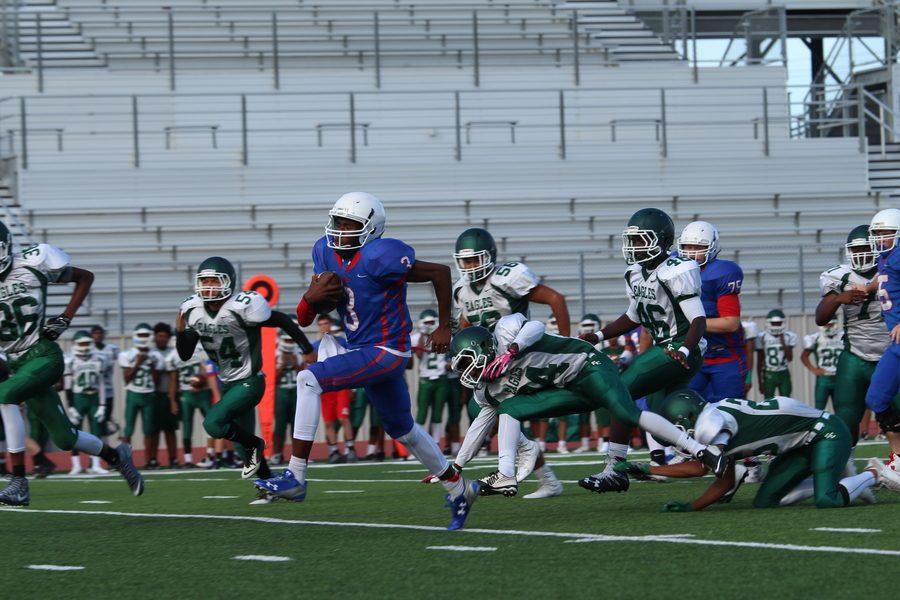 Dylan Hanna
The JV Lions formed into one team to take on the Ellison Eagles at home. Although the Lions went ahead early, the game was won by a narrow margin with a final score of 27-26.
"Starting off with a win will always set for a great season," junior defensive back Chase Barrick said. "You always feel nervous for the first one, but then the rest become more comfortable."
The game began with Ellison possession, but the Eagles were met with resistance by the defense, and were unable to earn a first down. After getting their hands on the ball, the offense began a series of running plays to score two touchdowns giving the Lions an early 14-0 lead.
"We played hard, we worked hard," junior wide receiver Morgan Rosseisen said. "We brought Ellison down."
Carter then threw a touchdown pass to sophomore wide receiver Jake Reed, which extended their lead to 21-0. Ellison landed two last minute touchdowns and the score at halftime settled at 21-14.
"When we were on defense, we [the offense] were encouraging them [from the sideline]," Rosseisen said. "We made sure they could hear us."
The Lions drove down the field at the beginning of the third quarter gaining over 45 yards, but punted after being unable to pick up a first down. After catching the punt, the Ellison receiver fumbled the ball on their 21-yard line, but in what soon became a trend, the ball was given to the Eagles despite recovery by the defense. The Eagles went on to score thanks to a fourth-and-eleven pass which was met with criticism from the coaches, who said it was out-of-bounds.
"The officials are doing their best to call a fair game at all times," Coach Grayless said. "Sometimes coaches and players disagree with certain calls, but there's nothing we can do about it other than just move on to the next play."
The Lions went on to score maintaining their lead at 27-20. Ellison maintained possession at the beginning of the fourth but the defense was quick to maintain dominance and the Eagle offense was prevented from gaining any yards. In an effort to prevent a fourth down punt, the Eagles decided to throw a touchdown pass, which was picked off by junior defensive back Colin Siegler. Despite the interception, the referees ruled in favor of the offense. Ellison attempted a two-point conversion, but failed, closing the game with a final score of 27-26.
"There are always going to be calls throughout the course of a game that are questionable on both sides," Grayless said. "I thought our kids did a great job of responding and stopping the two-point conversion attempt, which really ended up being the difference in the game."
The JV Lions will face off against the Pflugerville Panthers on Thursday starting at 5:30 p.m. at Kuempel Stadium.