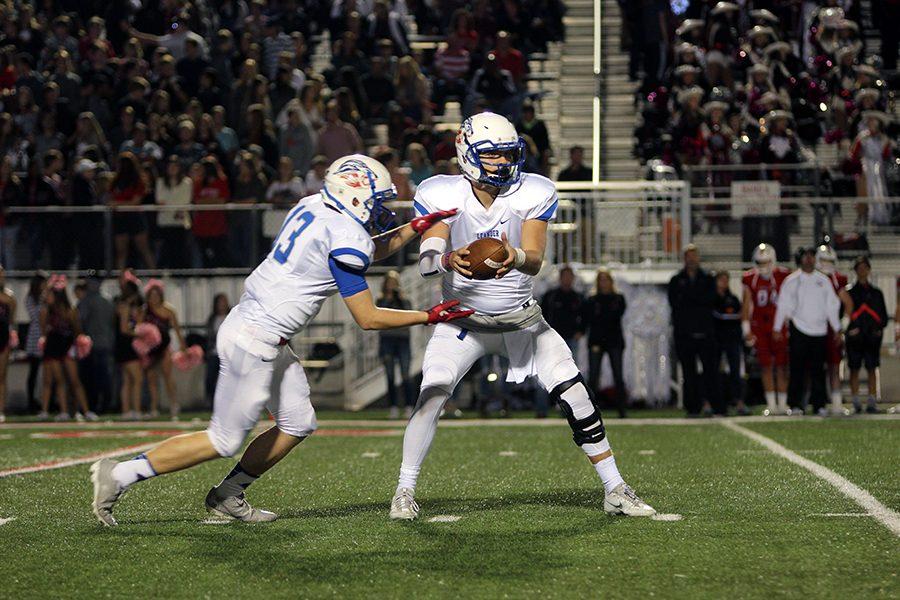 Kyle Gehman
In the fourth district game of the year the Lions lost to the Lake Travis Cavaliers 0-63 to put them at 2-6 overall in the season.
"We coach to win and we had a good offensive and defensive plan, but they're really good and they have some really good players," head coach Tim Smith said. "The things about our kids is that they fought and played for four quarters and I was really pleased about that."
Lake Travis took the lead a little after two minutes into the game off a 15-yard touchdown pass and just over two minutes later they scored off a 17-yard run which was followed up by a two-point conversion to lead 0-15. Following that, the Cavalier offense scored off a 35-yard and a 38-yard touchdown pass to increase their lead to 0-29. Then with 6 seconds left in the first quarter, junior Coltin Mitchell threw an interception that was returned for a 28-yard touchdown to finish the quarter, 0-36 Cavaliers.
"We need to start games faster on defense instead of just testing the waters first," junior Alex Williams said.
Lake Travis scored another touchdown from a 12-yard touchdown pass with just over eight minutes left in the half and minutes later ran the ball in from the 1-yard line for a touchdown. The PAT was missed, but the half ended 0-49.
"We learned that we have to finish the game strong no matter what and that we have to stick by each other and trust in the process," junior Colt Davis said.
After halftime the Cavaliers kept up their pressure on the Lions. In their first play of the second half, they ran a 73-yard touchdown to lead 0-56. In the 4th quarter Lake Travis again scored the only points of the quarter with a 26-yard touchdown pass. The game ended a few minutes later with a score of 0-63 to the Cavaliers.
"I told the kids I had that game circled and it wasn't so we would beat Lake Travis, but because I wanted the kids to see that's the level of play as far as competing; how intense you have to play and how strong you have to be, to get our program where it needs to go," coach Smith said.
Up next the Lions will play the Westlake Chaparrals on Friday the 28th at Bible Stadium starting at 7:30 p.m.