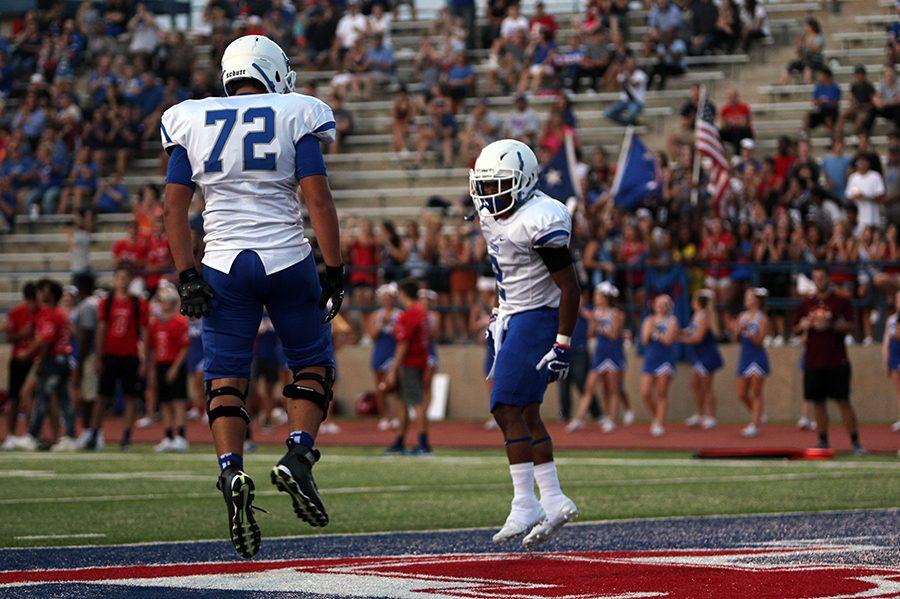 Kyle Gehman
A week after losing to Ellison the varsity Lions hoped to bounce back but lost to Pflugerville Panthers last Friday by a close score of 28-20.
"Our main focus against Pflugerville was that they had to play with effort to win, that meant that they had to play 70+ plays as hard as they could and I thought they did that," Head Coach Tim Smith said. "The effort to win was there so we just need to build off that and eliminate our mistakes and the wins and losses will take care of itself."
The Panthers got on the board first but after a long Lion drive, senior Jai Garcia rushed for a 1 yard touchdown to tie up the score 7-7. The score stayed the same going into the second quarter until Pflugerville scored off of a 62 yard touchdown pass. However, before the half ended, senior Zeke Garcia intercepted a pass and ran it back for a touchdown to end the half tied at 14-14.
"It felt pretty cool, I told everyone that I was going to get a touchdown but it was a good experience," Zeke Garcia said. "Just makes me more hungry to get another."
The Blue Belles and the band performed for their first time this year due to the rain last weekend that forced the game to be played on Saturday. The Blue Belles danced to their classic 'Get It On' routine and the band performed this year's show 'The Fourth Dimension'.
"Last Friday night was awesome, the energy from the band was uplifting which led to an exciting performance," junior Karisa Casares said. "Being in front of the crowd and the cheering made everything exhilarating which I think made all my fellow band members and I more amped for our performance."
The Lions came out at halftime and took the lead after senior Kyle Murdock scored a field goal. Then the Panthers scored back to back touchdowns to make the score 28-17 Pflugerville. Later in the third quarter after a long drive including a catch from junior Dalton Flowers, Murdock made another field goal to make the score 28-20. Neither team could get on the board and after the Lions failed to convert a fourth and long, the game ended 28-20 Pflugerville.
"The kids settled down and knew, okay, we can do this," Coach Smith said. "Our kids didn't back down from anybody and knew we could play that was the difference from the Ellison game."
Next up the Lions will take on the Westwood Warriors on Friday at 7:00 PM at Bible Stadium.