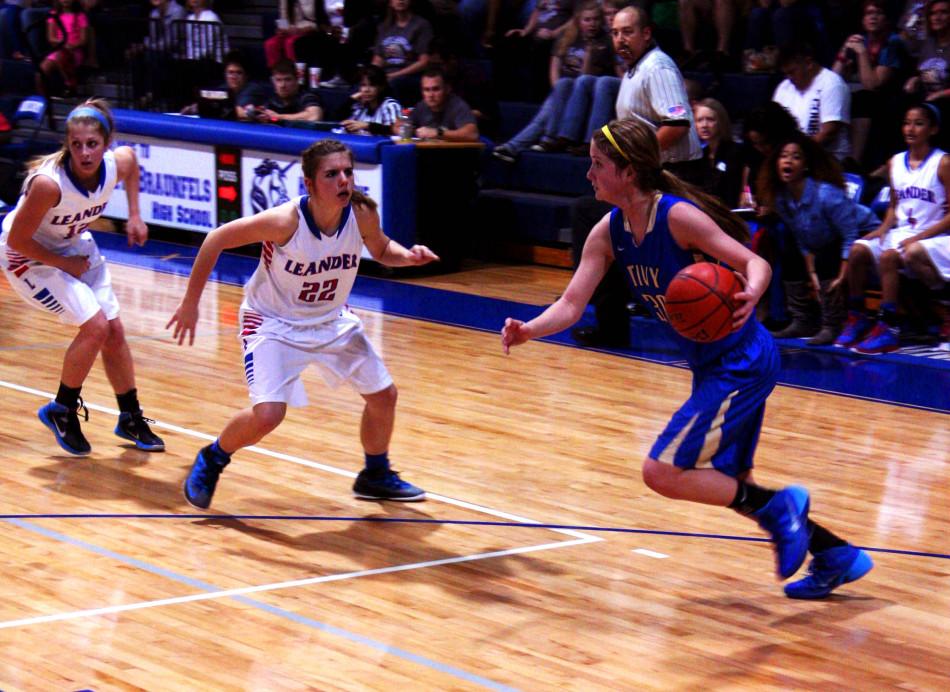 Emary Greene
  The season is far from over. The Lady Lions have advanced to playoffs and have already performed incredibly in both of their games. In the first round they played against the LBJ Lady Jaguars. This game proved to be a less than a challenge for our girls. From the very start the Lady Lions were able to obtain the upper hand. Through steals on defense the girls were able to take the lead early on. Though the Lady Jaguars were playing a scrappy defense that resulted in numerous fouls, the team was took advantage of those fouls and the free throws that came with them. The game was pretty consistent as a whole. Leander played incredible offense as well as defense. The team won their first playoff game with a score of 78-48. This win allowed to advance further into playoffs.
  For the second round of playoffs, the Lady Lions traveled to New Braunfels to play the Tivy Lady Antlers. This game proved to be more difficult than the one against LBJ. In the beginning, the Lions were on fire. They were playing a fast offense that caught the Tivy defense off guard. Senior Kiahna Thompson started off the game with a shooting well. The Lady Antlers however, didn't go down without a fight. They had a very well developed defense that prevented our girls from scoring. By the end of the half, the tables had turned and Tivy had taken the lead by one point. In the third quarter, Tivy carried their momentum with them creating a large margin between them and us. This margin was only a minor setback for the Leander Lady Lions. The girls chopped up the lead and put themselves back in the game.
   The final quarter was heated on and off the court. The score was close and the pressure was on. The two teams battled back and forth, switching who was in the lead. Eventually, the Lady Lions were able to pull ahead. The Lady Antlers, however, would not accept that. They fought and fouled. They did everything they could to beat the Lady Lions, but it didn't matter. The team was able to claim their victory over the Tivy Lady Antlers with a score of 48-38. An exciting win pronouncing the team as Area Champions. The Lady Lions will continue on their post-season journey by advancing on to the Quarter Regionals game tonight, February 18, at 7 p.m. at Concordia University. Be there to show your support for our lady Lions! If you can't make it, wish them luck in their endeavors.