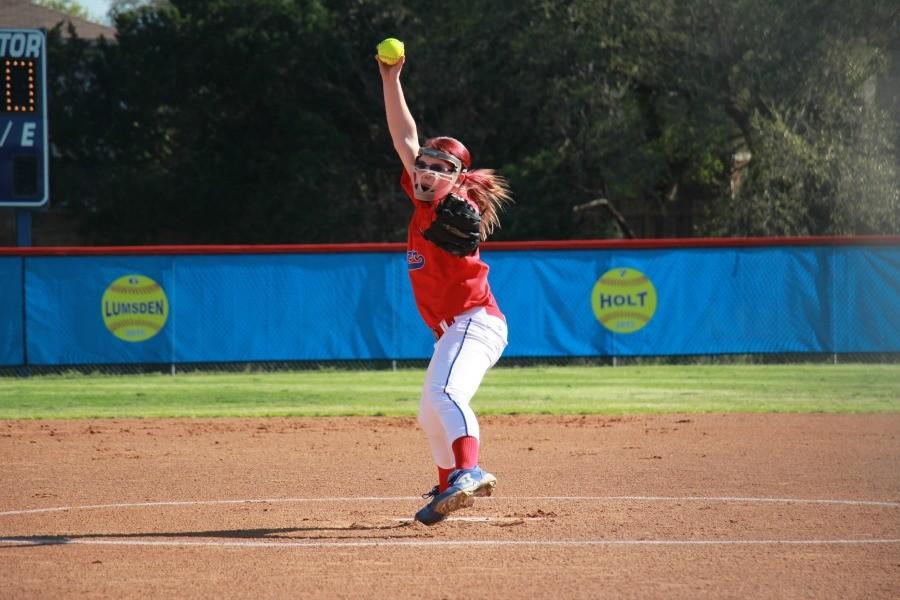 Jack Densmore
She is stepping up to the plate, stepping up to the responsibility, stepping up to fill the shoes left behind. As she takes a deep breathe she tells herself, Have confidence in yourself. She lifts her foot and takes her first step.
Freshman Lindsay Devlin is on the JV softball team. She mostly pitches and trains every day to become better with the ball. The varsity team's pitcher Hannah Holt is graduating this year and she is stepping up to aim for the place of pitcher.
"We lost our main pitcher because she is graduating this year," Devlin said. "I'm working hard this summer so that hopefully I'll be ready for Varisty by next year. Hannah was amazing on the field. I really look up to her and I have some big shoes to fill!"
Some might think her age could be an issue, being a sophomore filling a seniors shoes and joining varsity, but Devlin is not concerned.
"It's not any of my business what anyone thinks," Devlin said. "Everyone pitches different and in their own way and I am confident in myself and the team seeing that and knowing my age won't be a problem."
What also makes Devlin different is that she doesn't even have a full time trainer for her pitching. She practices at home every day for 15 minutes. This summer she hopes to improve her skills with cross fit.
"This summer I am going to be working hard, getting stuff done," Devlin said. "At school we have practice matches and those are really fun. They give us game experience which is good to have. But I don't mind working hard at home where I practice everyday after school."
Becoming a leader isn't always the easiest thing but Devlin knows that she can handle it. She peps herself up and knows that all she needs to do is prove her ability, knowing that everything that got her in the place she is today is inside her. She instills confidence in herself and her actions.
"When I think about what it means to be a leader, there are defiantly some nerves," Devlin said. "But I am confident that if I just work hard and do my best then I will be someone who can compete at a varsity level. I think that if I am doing my best, I can prove that I can be competitive where I am. I think that if I build relationships with the team then they will understand that yeah she's an underclassman but she can do it. The main thing is to build trust with the teammates then I think they will lift me up, and we can take this next step together."