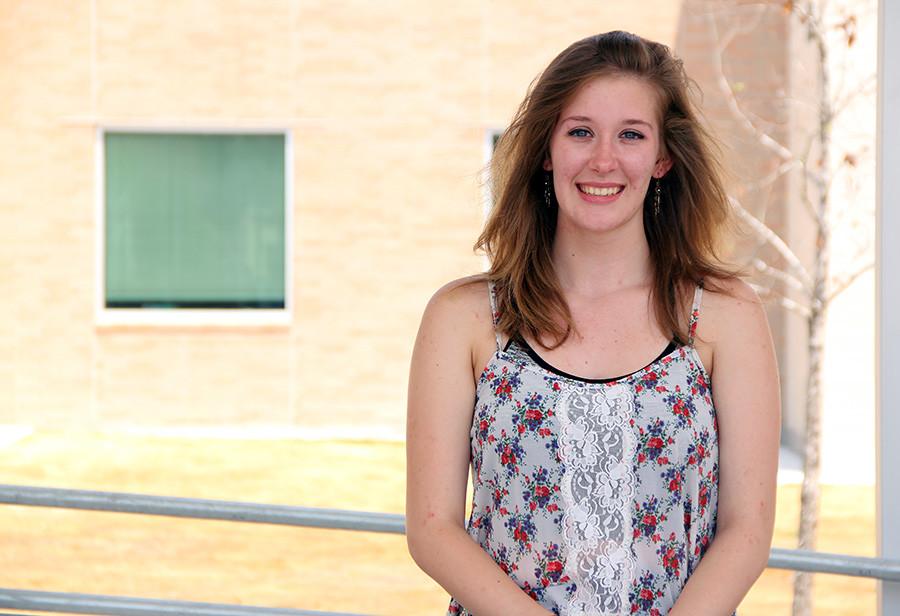 Hey, I'm Aimee and seeing as this is my first and only year on The Roar newspaper
staff
, I am extremely humbled and excited to interact and write about Leander's diverse student body.
Aside from Newspaper,  I am a Senior who is a part of Sapphires, PALS, NAHS, the president of the French club, an AP English and French student and on top of those things I love painting, animals, Hawaiian pizza, and the most obviously, writing.
I would love to travel to Greece and France to see and experience the amazing culture, and New York to see Broadway shows such as Les Misérables, Newsies, Phantom of the Opera, Wicked and Next to Normal.
I have a respect and love for all kinds of music, a fear of ventriloquist dolls, MARVEL is better than DC, and hard work and morals drive me to want to succeed.
I'm always open to try and learn new things, meet new people and I guess that's about it.
Have a great day!
Aimee Bozoudes, Staff Writer
Jun 01, 2016

Foreign Club Olympics

(Story/Media)

May 27, 2016

Newspaper seniors say goodbye

(Story)

May 27, 2016

The silent story

(Story/Media)

May 25, 2016

May celebrates salads and hamburgers

(Story/Media)

May 10, 2016

Patiently preparing for PALS

(Story/Media)

May 10, 2016

Music Review: Melanie Martinez

(Story/Media)

May 09, 2016

LHS talks Tubmoney

(Story/Media)

May 08, 2016

Why I teach

(Story/Media)

Apr 28, 2016

Stealing the show

(Story/Media)

Apr 15, 2016

Book Review: A Thousand Splendid Suns

(Story/Media)

Apr 07, 2016

Music Review: Twenty Øne Pilots

(Story/Media)

Mar 30, 2016

Women's History Month Spotlight: Eden Davis

(Story/Media)

Mar 30, 2016

Children's Advocacy Center helps with child abuse

(Story/Media)

Mar 23, 2016
Mar 08, 2016

Top 10 spring trends

(Media)

Mar 04, 2016

Losses against Vipers, Timberwolves

(Story/Media)

Feb 29, 2016

The final three

(Story/Media)

Feb 29, 2016

Music Video Review: Till It Happens To You

(Story)

Feb 29, 2016

Responding from 5,177 miles away

(Story/Media)

Feb 25, 2016
Feb 22, 2016

Foreign language clubs begin winter clothes closet

(Story/Media)

Feb 19, 2016

Communication is key

(Story)

Jan 26, 2016

Victory against Vista

(Story/Media)

Jan 15, 2016

Taking out the Mustangs

(Story/Media)

Jan 15, 2016

TV Show Review: Mr. Robot

(Story/Media)

Jan 11, 2016

A sense of urgency

(Story)

Dec 14, 2015

Freshmen A team keeps winning streak against Belton

(Story/Media)

Dec 10, 2015

Freshmen Basketball take on Burnet, Hutto

(Story/Media)

Dec 08, 2015

French club sends letters to their pen pals

(Story/Media)

Nov 27, 2015

How to not stay in the grey for Black Friday

(Story)

Nov 19, 2015

Wins, losses for the freshmen Lions final games

(Story)

Nov 12, 2015

Club Spotlight: NHS

(Story/Media)

Nov 11, 2015

Cheerleaders host annual fundraiser 'Haunted Hallway'

(Story/Media)

Nov 03, 2015

School hosts Trunk or Treat

(Story)

Oct 22, 2015

Freshmen Lions defeat Marble Falls, lose to Cedar Park

(Story/Media)

Oct 16, 2015

The new teachers on campus

(Media)

Oct 16, 2015

Event Review: Cirque Du Soleil Kooza

(Story)

Oct 14, 2015

Restaurant Review: Brooklyn Heights Pizzeria

(Story/Media)

Oct 14, 2015

Speech, Debate takes win in qualifying meet

(Story/Media)

Oct 07, 2015

It starts with you

(Story)

Oct 04, 2015

Vipers knock down freshmen Lions

(Story/Media)

Oct 01, 2015

TV Show Review: Fear The Walking Dead

(Story/Media)

Oct 01, 2015

Turns, talent, teaching

(Story)

Sep 24, 2015

Dylan Hembey scores first touchdown of the Red team season against Georgetown

(Story/Media)

Sep 16, 2015

Freshmen teams battle Rouse

(Story/Media)

Sep 15, 2015

"I wish I knew…"

(Story/Media)

Sep 11, 2015

Freshman football falls against Pflugerville

(Story/Media)

Sep 02, 2015

Freshman teams fumble during first game

(Story)

Aug 09, 2015

Back to School Housekeeping Days kick off the new year

(Story)