GIVE thanks.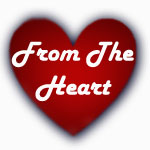 By Shelly Voss
   As a slight chill infiltrates the November air, I sip a pumpkin spice Starbucks latte and take in the beauty of the golden hues that now grace the leaves on the trees (…and the leaves on the ground…). Everyone's favorite holiday is Christmas, right? No doubt, it's the most wonderful time of the year; I'm a little girl again at Christmastime when the miraculous truth of that Holy Night gets a hold of me! But truth be told, Thanksgiving has an incomparable place in my heart.
   On this Thursday of thanks, the majority of Americans sit contentedly around a table laden with an abundance of turkey, corn, and cranberry sauce, reminded of the many things they have to be thankful for. What about you? I'm more than slightly convicted when I begin to realize all the blessings I've taken for granted this year. Besides good health, a cozy abode to call my home, loyal friends and a warm, close-knit family, I have had a year bountiful with daily joys and hourly rays of sunshine. What about you? What are YOU thankful for?
   There's so, so much to be thankful for. I look around me and see so much pain and heartache. Children, ravished by starvation and AIDs, are dying in Africa. Men, jobless and homeless, stand on too many corners. Women, terrorized and fearful, nervously hide in shelters. But these are extreme cases of trauma; as I walked to 4th period today, I was burdened by the masses of suffering spirits that I pass in the hallway every day. People are broken; hearts are lost.
    How do I, blessed, provided for and loved as I am, find the audacity to ever complain? And why am I so rarely moved to a place of action by the pain that I see? Our gratefulness for all we've been given cannot sit stagnant – it must create in us desire to give others a reason to give thanks. As I am minutes away from my favorite holiday break of the year, my heart is burning to alleviate the distress of so many.
   Help the hurting with me! Whether you work a few hours at a soup kitchen, take a homeless man a plate of Thanksgiving dinner, give a needy friend an hour of conversation or help Granny with the Thanksgiving dishes, give someone else a reason (however small) to be thankful this Thanksgiving. Be the change! "To whom much is given, much will be expected."