Band Ranks Third in Lonestar Marching Competition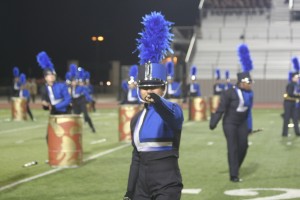 On Saturday, October 13, the Leander band participated in the Lonestar marching competition in Houston. They placed 2nd in the 4A division Prelims and 3rd overall. The band was within two points of being first place, so details really do matter.
  "Our performance vastly improved," Laura Cross, assistant band director, said. "We had far fewer individual errors and the judges were blown away by the quality of our musicianship."
  Some of the band members played excellently. The judges said they performed better than many professional players. Some of the members they singled out were flugelhorn soloist Jonah Arias, senior; Marlen Carillo, senior; and Abhishek Pratapa, senior.
  The band staff had the opportunity to critique with the judges after the show. This also gave them the chance to get the feedback in person. Some of these judges will also be judging the bands later in the season at Bands of America in San Antonio at the Alamodome on November 2-3.
  This Saturday, October 20, the band will be taking part in the UIL Marching competition at the Round Rock Independent School District Kelly Stadium. Since UIL is about being clean, the band will be working hard to perfect every last detail and will try to continue the 29 straight years of unbroken first division rankings.
  "As always, we are unbelievably proud of our band students for their hard work and dedication," Cross said. "We hope for them what we hope for ourselves: that when the final note plays they will walk off the field knowing they did everything they possibly could to have an amazing performance, and whether we take first place or third or last, that journey is what is truly important."