Cheerleaders host annual fundraiser 'Haunted Hallway'
Coinciding with Trunk or Treat, third annual 'Haunted Hallway' draws in more money than past years
The cheerleaders hosted their annual 'Haunted Hallway' on October 29th in hopes to raise money for the cheer program's future events and necessities. Beginning only three years ago, the 'Haunted Hallway' is an affordable spin-off of a haunted house and is there for the community to have a safe, local and attractive event for kids and parents alike.
"I thought it was really fun because different people had different reactions to it," freshmen cheerleader Lennox Yocham said. "We got a lot of positive feedback from it and I hope that we can do it again because it was so much fun to just set it up and have people come in and raise money for the cheer program."
Any inch of free time the cheerleaders may have had during the school day, they spent preparing for the event. The cheerleaders were assigned different roles by Cheer Coach and Ready Set Teach teacher Alicia Carlisle depending on their personalities and took the opportunity to bond closer as a team in different groups. These groups included a mock Purge, a ghostly scenario called the White Nightmare, Route 666 where cannibals could be found, a terrifying classroom and a few skeletons and an actual snake strewn in.
"I'm a halloween junkie and I love planning for it," Carlisle said. "[The cheerleaders] are very involved in the planning process. The set up, the take down and all of the supplies that we need and what can we make from the resources that we have because we do tend to do this without a budget. They learn a lot on how to put on a big event and how to plan it and how do we problem solve as the process goes on. There's a lot to learn from it especially when they work in groups together and within those groups they have to work together to get their scenes set up and taken down. It requires teamwork outside of your normal choices."
In the past the fundraiser has attracted a great attendance and has gone the entire length of time every year as described by Coach Carlisle. Drawing in more and more people each year, they were able to fundraise more than 800 dollars and hope to make each following year even more frightening than the last while keeping it family friendly environment.
"I love [the cheer program]," senior captain Claire Jenkins said. "Coach Carlisle does a really good job of keeping a good name for ourselves and it's always a good thing when I raise money for cheer because even though I'm a senior and I'll be gone next year, it'll still benefit for years to come."
About the Contributor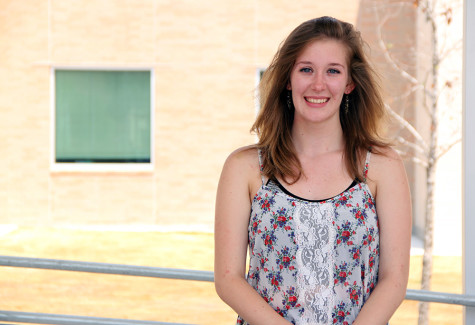 Aimee Bozoudes, Staff Writer
Hey, I'm Aimee and seeing as this is my first and only year on The Roar newspaper staff, I am extremely humbled and excited to interact and write about...