Choir Students Advance to Region Competition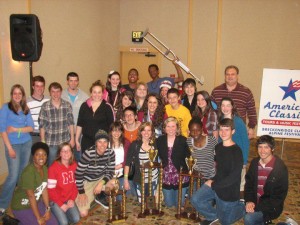 On Saturday, September 29th, LHS Choir students won 18 chairs in the TMEA All-District Choir Competition held at Cedar Park High School.
The following 18 students will move on to compete in the All-Region Choir: Nadia Urrea, Kayla Ousley, Sarah Yeager, Mollie Elam, Rebecca Linn, Alexis Moseng, Dulce Sanchez, Morgan Stewart, Fransisca Pedregon, Alexa Urrea, Matthew Linn, Kevin Nguyen, Nicolas Garcia, Samuel Lightsey, Christian Chaskelson, Terry Ballard, Joshua French, and C.J Smith.
"I'm completely dedicated to choir and I practice for it everyday,"  Morgan Stewart said.
Mollie Elam said, "I was most nervous about having an asthma attack while on stage." It's a valid concern since this happened to her freshman year.
Dulce Sanchez said she prepares for the competition by "listen[ing] to the CD while doing homework."
"We have many new students this year; they are very dedicated. They put their noses to the wheel and let me teach. It paid off," Mr. Davis, the choir director said.
The Choir has started the year off on the right note, and they expect to do as well, if not better, in their next competition at Region.