Stealing the show
While 'Mirage' was this years theme for Spring Show, managers, honor guards, leaders give insight as to what happened behind the scenes
"One more time!" However, each and every dancer in the room know's that after the long hours spent in the kaleidoscope of lights that have been shone down upon them in a flurry of different outfits and sore muscles hitting the hard, black floor which has been marked and primed with markers that, it will not, in fact, be the last time.
The Blue Belles Spring Show Production, 'Mirage,' has like many years in the past been built up to the variety of dancers performances that have been, and have yet to be, showcased on stage. The hours spent until midnight or a tad longer, along with each light, sound, clothing and performance check, have been carried out by more than just the dancers alone. Carrying out the props, the clipboards, distributing the outfits, the order of the show is carried out by none other than the managers and honor guards as they throughout the year have made each performance possible from the sidelines.
"Prepping for spring show is really stressful as a manager," sophomore Blue Belle Manager Crimson Scott said. "You're the only communication between the directors and backstage so I always have to be on my game and you have to make sure every dancer gets what they need and you have to know where everything is at all times. This year's Spring Show was memorable because I got to work one on one with other baby belle managers and new honor guards in a way I never had before. I also met a lot of new people I'm excited to work more with in the future."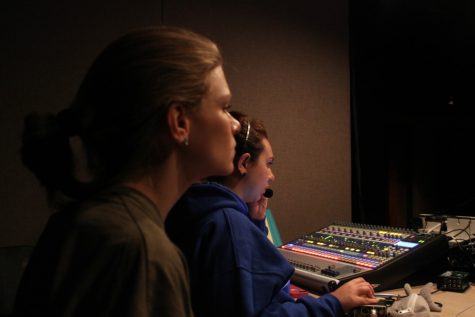 As described by director Susan Shubert and assistant director Brooke Wetuski, the number cost of Mirage was comparingly high to past Spring Shows. Lighting and costuming each costed roughly $10,000, sound and colored programs both were close to $1,000, while black and white programs costed $5,000, the Snapchat filter at $200 and food was donated or made. However, alongside all of these costs, the Blue Belles'  leaders included choreography and hours upon hours throughout the year spent preparing.
"Spring Show meant to me all the hard work that we've put in throughout the past year," senior first lieutenant Paige Holscher said. "Mirage is a really cool theme and we had a lot of creativity and room to play with us so it was fun for all of us to be apart of. It puts a lot more pressure on you whenever you're a leader. There's a lot more riding on how the show turns out cause you have a lot more to do with it and you kind of feel like it's more of something that you help put together versus something you were just apart of necessarily."
While dancers, managers, honor guards and directors alike spent 17 hour days at school from 7 a.m. to midnight in most cases to practice, the stage set-up was something else to be noticed at this year's show as it was made and set up by the honor guards and senior second lieutenant Lauren Yetter's, dad Larry Yetter.
"As an honor guard my responsibilities range from working with lights and building and moving  props during the production," junior honor guard Jared Bouley said. "One of the biggest challenges I faced during Spring Show was juggling work, track, and schoolwork but I love being a part of such an elite organization and working with the other honor guards and Blue Belles."