A letter of goodbyes
Our senior staffer says his farewells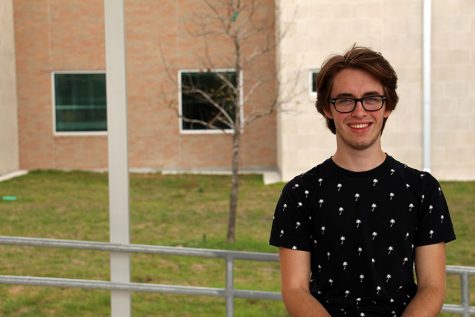 It has been a long 2 and a half years. Being a part of The Roar staff has shaped me into who I am. All of the relationships I made, the stories that were born, and the lessons that I learned mean a lot to me. More than I show.

To Taylor,
You're awesome. I like your flaming liberalism and your hair. You also have a rockin' fashion sense. You have a good sense of doing what you need to do and being devoted. Good luck next year.

To Michelle,
Keep eating at those cool restaurants and going to quirky places throughout the ATX. You're a very aware and concerned person, and those are both amazing traits. Keep doing you and keep fighting.

To Amanda,
Thank you for feeding us throughout the year, I'll always be indebted to you for the time you bought that Chick-Fil-A nugget tray, and the pizza. You have a good heart. Don't let other people get you down. You're you for a reason.

To Mrs. Alley,
Thank you for bringing me into and shedding light on the professional side of photography. Thank you for teaching me what good lightroom editing looks like, and vise versa. I can see a lot of bright things in your future and I'm sure you will take this department in a great direction because of your dedication and your amazing drive.

To Bri,
Wow. You are one of the nicest and most considerate people I've ever met. From the letters you write to being there for someone when they need their tears wiped, you're there. You also have a great work ethic and you're so talented in both your writing side and your theatrical side. You can do so much with your life and I'm super excited to see where you go.

To Kyle,
Man we have had some good times. I'm proud of you for taking on the responsibility I couldn't, and I also thank you for doing so. You're a Jack of all trades. You're such a talented soccer player, writer, photographer, student and so much more. I'm proud I've gotten to know you better over the years. Going to LA with you was one of the best experiences of my life and I wouldn't have wanted to do it with anyone else. You will do amazing things.

Advice: If you're going to make the commitment to newspaper, make the commitment. It's a big one, and it's really hard. If it's not something you enjoy doing, you shouldn't be in it. But if you do enjoy it, do everything with 100%. Take it to it's full potential. It's very rewarding to hear people talk about your work, and see your work. There's nothing else on the campus that is rewarding the way that newspaper is. It will give you a lot if great opportunities, and hey, you might meet some cool people along the way!