Gordy Defines School Spirit
By Makenna Williams
   When the perky red head walks the halls it's known. Fallon Gordy's presence is known where ever, when ever. Her voice is heard every morning on the daily announcements and she has enough club t-shirts to go through the month. Fallon Gordy is true school spirit.
   Fallon has been involved in a countless number of clubs such as FFA, DECA, NHS, PALS, C², and Student Council.
   "I love all the clubs I'm in; there is no way to pick a favorite!" Fallon said.
   It's an unknown story how Fallon has time to handle club meetings and volunteer projects with school and time with friends. Somehow she manages to do it.
   "I have a color coded calendar in my room; I love being organized, and it works for me," Fallon said
   Fallon was also involved with the creation of C².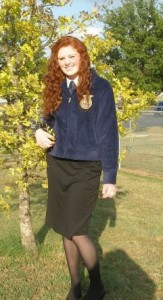 "Something had happened the year before involving bullying, so a few students and assistant principals came together and created coalitions of clubs which later became C²," Fallon said.
   When Fallon is allowed free time in her busy schedule, she is usually listening to music or hanging out with friends and family.
   "I'm a huge music junkie, I love music! My favorite artist is James Taylor, he's old school but I love it!" Fallon said.
    Fallon was recently accepted to A&M, hopefully alongside her boyfriend Chad.
   "I'm really excited but I'm going to miss high school, Leander has an environment that you can't get just anywhere, I'm going to enjoy the time I have left." Fallon said.
   Fallon Gordy has shown true school spirit all four years of her high school experience. It's obvious to see that Fallon Gordy never meets a stranger, and can easily be described as one of the friendliest seniors.