Newfound love
Finding passion for poetry through competition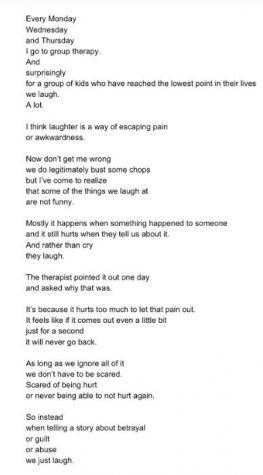 Junior Geneva Mclain has always liked writing. However, it wasn't until a few weeks ago while confined to her home, when she discovered her love for poetry. She never knew where this newfound interest would end up taking her.
Last week for the theme, "'Bout the Books," Mclain's piece, "A Teenage Edgar Allen Poe," won the Unexpected Art Contest hosted by the LISD Council of PTAs.
"I was ecstatic [when I found out]," Mclain said. "I was at dinner with my family and glanced at my phone and saw the email that I had won. It felt kind of like a relief after finaling for two weeks. It's also just nice to be appreciated."
The Unexpected Art Contest is a weekly competition, with each week having a different theme, where students are allowed two entries. Winners are awarded a Michael's gift card.
"I think I enjoy it because it's such an authentic way to express how I'm feeling," Mclain said. "I sit down to write and I have an idea of where I'm going to start but have no idea where I'll end. It gives me a way to explore myself and emotions I'm having about the things I'm going through right now."
Mclain began competing in the art competition three weeks ago when the IB CAS coordinator Chelsea Cason promoted the competition. Since then, Mclain has competed weekly and has been named a finalist twice.
"I continue to do it because I've found that I really like writing poetry," Mclain said. "Also, for the last two weeks I've been a finalist and I just really wanted to win one time. I think I'll continue to do it just because it inspires me to write."
Through the competition, Mclain has learned a lot about what it means to create for the sake of creating. 
"Last week I wrote something and I felt like it could be a winner but I just couldn't bring myself to submit it," Mclain. "I wrote it for the purpose of winning, not because it was how I really felt, which just made it feel so wrong. So I didn't submit it and I wrote something that expressed how I truly feel, which ended up winning anyway. So I guess what I'm saying is I write poetry because I want to learn about myself and be able to express how I truly feel."
To enter in the Leander ISD Unexpected Art Contest, click here.