Off to Washington
Junior wins PEC Essay Contest and wins trip to go to Washington D.C.
Surprises can come in many shapes or forms, but for some it comes with earning a trip. A free trip to one of the most popular places in the country. A trip that only took the skills of a writer, a plan, and an idea.
Junior Danielle Snow is one of four students on campus to win the PEC Essay Contest along with a free trip to Washington D.C. Every student taking English III AP wrote an essay for the contest not only for a grade but for a chance to win the free trip. Snow chose to write her essay about a way to help the community.
"My essay was about the Broken Windows theory," Snow said. "We were supposed to write about a project that would help our community, or our school district. So, I chose a community service group, but I backed it up with a theory that was invented by detectives and cops. It's the theory that states if there's an area that has a house with broken windows people won't respect it because it is not fixed and it'll continue to deteriorate over time."
With any new idea one must have a backing, and Snow was able to back her idea up with a little extra help.
"My dad was a cop and is now in the U.S. Department of Justice, and I was thinking about my community service project [to write about]," Snow said. "I thought it was too mainstream to choose that, and he said just back it up with a theory. So, actually my dad was the root of this essay. He really helped me a lot."
Every essay requires research and Snow's essay was no exception.
"I did a lot of research, because it was a theory that had been put into place a long time ago," Snow said. "So, I had to research different police departments and how they used it and if they worked. It was extensive."
After her essay was finished it was only a matter of time before she got the call that she was a finalist.
"I was floored," Snow said. "There were ten finalists, and only six were accepted, and I was just ecstatic. It was my first interview like that and I made it so I was really happy."
Snow never imagined until now that her talents would take her to many places.
"I thought it was going to be a long shot," Snow said. "Because, there was going to be like 500 people applying and I was like 'ok, I'm just going to write a good essay for a grade. I applied for the contest , I sent my essay in, but that's only because Mr. Shaw encouraged me to."
After Snow learned that she was finalist there was another obstacle.
"It was kind of a two-part contest," Snow said. "I wrote the essay, and they called me and told me I was a finalist, which I didn't even know I would be a finalist. I was just thinking it was an essay for school. Then I did an interview with some judges, and they called me a few days later and told me I had won. I was amazed, because I didn't think it was going to be that kind of deal. I thought I was just going to turn it in for a grade."
Many students would be a little nervous to travel, but Snow already knows the experience of traveling.
"I've been on a lot of planes before because of moving, so I'm not nervous about the plane trip," Snow said. "I'm really happy especially since I'm going to be there with friends that I know. That's really comforting."
Snow will also be traveling with some of her closest friends.
"I'm so excited," Snow said. "I'm going with three people from this school. The Archibalds, and McKelle Winsor, and I'm just really excited, because they're all real good friends."
About the Contributor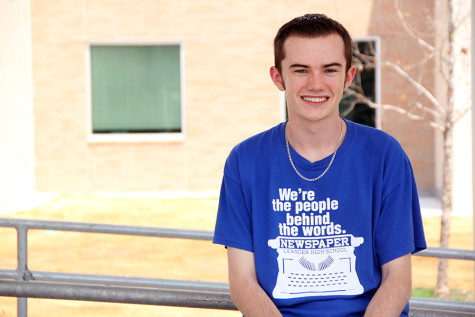 Jack Densmore, Editor-in-Chief
Hello, my name is Jack Densmore. If I had the ability to be Liam Neeson for a day I would. Not only has he trained Obi-Wan Kenobi, but also Batman. Also...