The Roar is a finalist for a NSPA Online Pacemaker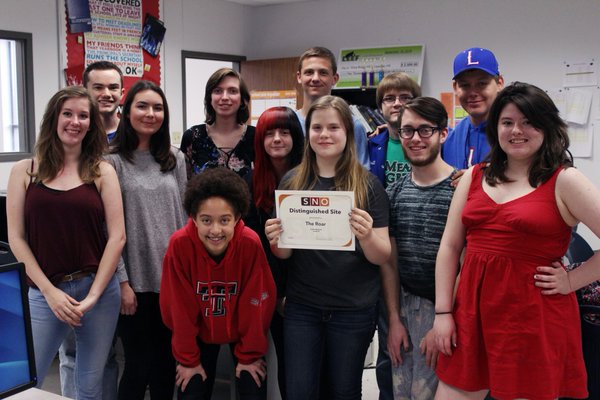 The school newspaper, The Roar, has been named as a finalist for a National Scholastic Press Association Online Pacemaker award for the current school year. This is the most prestigious scholastic journalism award in the nation. This is the first time in school history that a school publication has been nominated for a national award.
"I could not be more proud of our staff and the work they have done to accomplish this," adviser Danielle Bell said. "This year, we've taken steps to make the website more engaging and user-friendly, and we publish over 20 stories per week. If something is happening at LHS, we're covering it. With a staff of 12, we're one of the smallest staffs to be named a finalist."
Some of the newspaper staff will travel to Los Angeles, California for the Spring National High School Journalism Convention from April 14 – April 17. There, they will take part in a few different lectures and classes from some well known journalists across the nation. 
"
I could not be more proud of our staff and the work they have done to accomplish this."
— Danielle Bell
"It's so exciting," senior editor-in-chief Jack Densmore said. "Being able to learn from great journalists, travel to L.A., and gain so much experience is such a great opportunity. This is a once in a lifetime experience."
The newspaper staff includes: Densmore, junior assistant editor Austin Graham, sophomore assistant editor Kyle Gehman, seniors Garrett Gage, Aimee Bozoudes and Natalie Ditsler, juniors Gigi Allen and Matthew Grissom, sophomores Lyn Cheely and Brianna Sabrsula and freshmen Michelle Parker and Bri Branscomb.
"I am extremely overwhelmed and proud," Graham said. "It is such a honor to be nominated for an award that is the status of a pacemaker. I'm proud of the staff for doing everything they do and going to the lengths they travel. Being nominated for a national award is unbelieveable."
About the Contributor
Jack Densmore, Editor-in-Chief
Hello, my name is Jack Densmore. If I had the ability to be Liam Neeson for a day I would. Not only has he trained Obi-Wan Kenobi, but also Batman. Also...