Tears, goodbye, German chocolate and highways
(Ed. Note: Chiara Osmer our German foreign exchange student shares memories of her journey from her homeland to Cedar Park, Texas.)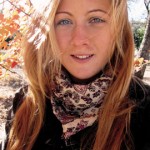 Hi. I am Chiara Osmer, and I am from Germany. This is my exchange year. I will stay for 10 months, but there are only 6 months left. My home is right in the middle of Germany near the town of Kassel. My new home is in Texas with the "Resa" Family, and this is going to be the year of my life.
   Before I came to America, I had to say goodbye to my family, all my friends and gather moments to keep in my heart. At the airport I got the last bit of German chocolate, many tears and a lot of hugs. I still think my German family is awesome because they agreed to let me go. Trust me it is hard to let your own daughter or son go when they hadn't even talked to the new host family.
   Eight hours later the humid, hot and strong wind from Washington D.C. blew in our faces. It was amazing to know that I have one year to experience a new country, a new culture, a new way of life and to get to know a new family. But there was still the feeling and the thoughts to learn to expect the unexpected.
   We spent two days in Washington D.C., and we all were so excited to sit on an American bus and drive down a highway to the White House and the Jefferson Memorial.
   On the August 14 I met my host family the first time at the airport of Austin. Everybody was too excited, my hands were shaking. An hour later I got to eat typical American food at Dan's Hamburger and ate a cheeseburger and french fries. I really don't get why they are called french fries because it has nothing to do with France J
On the way "home" we tried to talk, but it was the first time that I heard a Texas accent. All of my English experience so far had been 6.5 years studying British English, which turned out to be not so helpful.
   Once we were home my host family showed me their house, and they were so nice.  I am very happy with the Resa's. I knew they would be a great family! Up until today so many things happen, and we all are still learning.
   My family kept all of us really in those important first two weeks. This really helped me to not be so homesick. I am grateful my host family gives me the opportunity to live with them.
   During these first four months my personality changed so much. I promise, every exchange student learns to appreciate their natural family, to accept new things, and learn not to judge just because something is different. A good moto for anyone considering the foreign exchange program is Be quick to observe but slow to judge!
   And one thing which really is developing is my confidence. Because when you start with nothing, you have to create a new life and speak a different language. It would be impossible with your host family.
   If you get the chance to study abroad, TAKE IT! It makes you A BETTER PERSON, and nobody can take this experience from you! I love this year!