4 Choices for Haunted Houses
By Alex Ceballos
[updated on Friday, October 14th]
House of Torment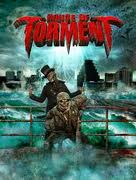 This year they've done it again. House of Torment has two new themes, Cursed and the Reckoning. The Reckoning is a future Apocalypse theme that takes place where visitors experience a war zone in which most of the human population is enslaved, captured, and tortured by Nemesis, the commander of the Soul reapers.
Cursed, a new addition to the House of Torment is a pirate theme where visitors encounter cursed pirates, bloodthirsty savages, and an ancient evil that has all men tempted.
Located in 523 Highland Mall Blvd Austin TX 78752 north east corner at the Highland Mall parking lot across the street from the Sailboat shop. Open at 7pm-midnight. General admission is $19 + Tax.
2. The Horror Haunted House

Austin's newest haunted house, this is their first year. Explore and old dreaded house with secret passages where zombies and cannibals wait for their next meal. Then there is the Dementia Haunted Asylum, where horror is the new therapy. In this miserable place the most psychotic mutants and fiends reside in the walls of the Asylum.
Located on 12617 Ridgeline Blvd near Lakeline mall. Open 7pm-midnight. Tickets are $13 for single attraction and $18 for a combo pass.
3. Cabin of Fear
Cabin of Fear is a camp themed haunted house, viewed as Cedar Park's scariest haunted house. It's at the YMCA Camp Twin Lakes on 204 E. Little Elm Trail, and open Friday through Saturday at 7-11pm. Tickets are $5 each.

4. Scare for a Cure
Scare for a Cure is an Austin-based nonprofit organization that raises money for local cancer charities one scream at a time. Each year, they produce a full length interactive haunted house and this year's Carnival of Lost Souls will chill you to the bone.
Tickets are $25 for regular admission and $30 for Red-level admission. Red-level tickets are for those brave enough to experience a more intense challenge that gets messy with fake blood as participants run and crawl. Scare for a Cure is different from other haunted houses because it is a theater performance that takes place on 26 stages in three minute acts and includes audience participation.
The haunted house is located on 7400 Coldwater Canyon Dr. and opens every Friday, Saturday, and Sunday at 7:30 pm.