Working her tail off to work with tails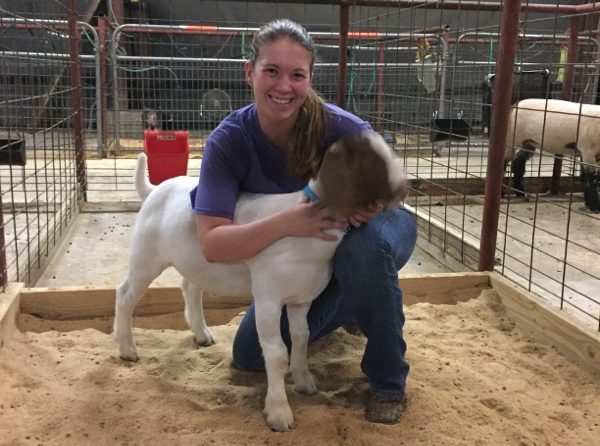 Hang on for a minute...we're trying to find some more stories you might like.
She is an officer in FFA, works at the New Hope Animal Hospital, and is raising a goat and pig. Since she could walk, she's had a love of animals that drives her to work her tail off to become a future large and small animal veterinarian.
Senior Brieanna Damron started working at the New Hope Animal Hospital in May of last year. She worked as a volunteer for three months before she secured a job at the hospital.
"Before school started, I worked around 40 hour weeks, but since began, I've cut that in half, so now I work about 25 hour weeks during school," Damron said.
She is working towards her CVA Certification, which will make her a Certified Veterinary Assistant level one.
"I can't go into radiation and I can't mess with anesthesia, because I'm not 18," Damron said. "I've been taught everything else, so I can put in catheters, take blood draws, and stuff like that."
"
I want to be large and small animal vet, so I want to work with household pets as well as livestock."
— Brieanna Damron
She is planning to save money by attending Blinn College after high school before transferring into A&M University for veterinary school.
"I'm going to apply for [the Blinn TEAM], it's cheaper and easier," Damron said.
The practicum class that Damron was accepted into allows her to work at the animal hospital for two class periods during school.
"I want to be large and small animal vet, so I want to work with household pets as well as livestock," Damron said. "I want to start my own clinic."
As a senior, Damron is the vice president of FFA chapter, so she has many responsibilities in her chapter, including setting up meetings, committees, and making sure everything goes smoothly.
"I'm trying to get involved in the field right now to get a step ahead of everybody else," Damron said.

(Visited 17 times, 9 visits today)
About the Writer
Rebekah Hui, Staff Writer
Hey! I'm Rebekah Hui (who-eeee), and this is my first year on the Roar Staff. If I'm not at ROTC, then you can catch me running, stressing about IB, or goofing around with my amazing church. I love wearing the color white, trying new foods, especially with avocado or coconut, pastel licorice beans, and watching sunrises. My biggest aspiration is to join the Air Force and become an officer because I love moving around. Even though I was born in Austin, I have lived in St. Louis, Australia, and Singapore. While both of my parents majored in journalism in college, I had never thought about writing until I met the amazing staff, so I am so very thrilled to cover Leander High School with them!