Childhood Accidents Brought to Light
Natiowide's Super Bowl commercial shocked the world for good reason
Super Bowl commercials are generally thought to be light and hilarious, but this year a couple of commercials didn't follow the unspoken rule. Possibly the most shocking one was from Nationwide.
Nationwide's commercial showed a child saying that he would never get to do many childhood activities because he died. However, Nationwide was only showing the sad truth: that accidents do happen to young children and unfortunately some are fatal.
"I think Nationwide's intentions were good, but they could have approached that with more tact," sophomore Tanner Shaw said. "The Super Bowl isn't a good outlet to advertise something that way. The Super Bowl is played at parties and people want to laugh at commercials, not be sad. They didn't state prominently enough ways in which accidents like that could be prevented. They showed the negative side and not the positive helpful side."
A CNN article was published shortly after the commercial aired, and a mother wrote about how important the commercial really was.
"I applaud the company for shining light on an issue that has changed my life and my family's life forever," mother Lisa Siefert said. "My son, Shane, died in 2011, when he was just 2 years old, as a result of a furniture tip-over accident. This was a threat we had never considered."
Around 70% of children that die because of household accidents are under the age of  4, and one of the top reasons children under age 3 go to the ER is because of household accidents. Nationwide has safety tips for things like TVs tipping over on young children, fires and burns, choking, and poisoning on their website.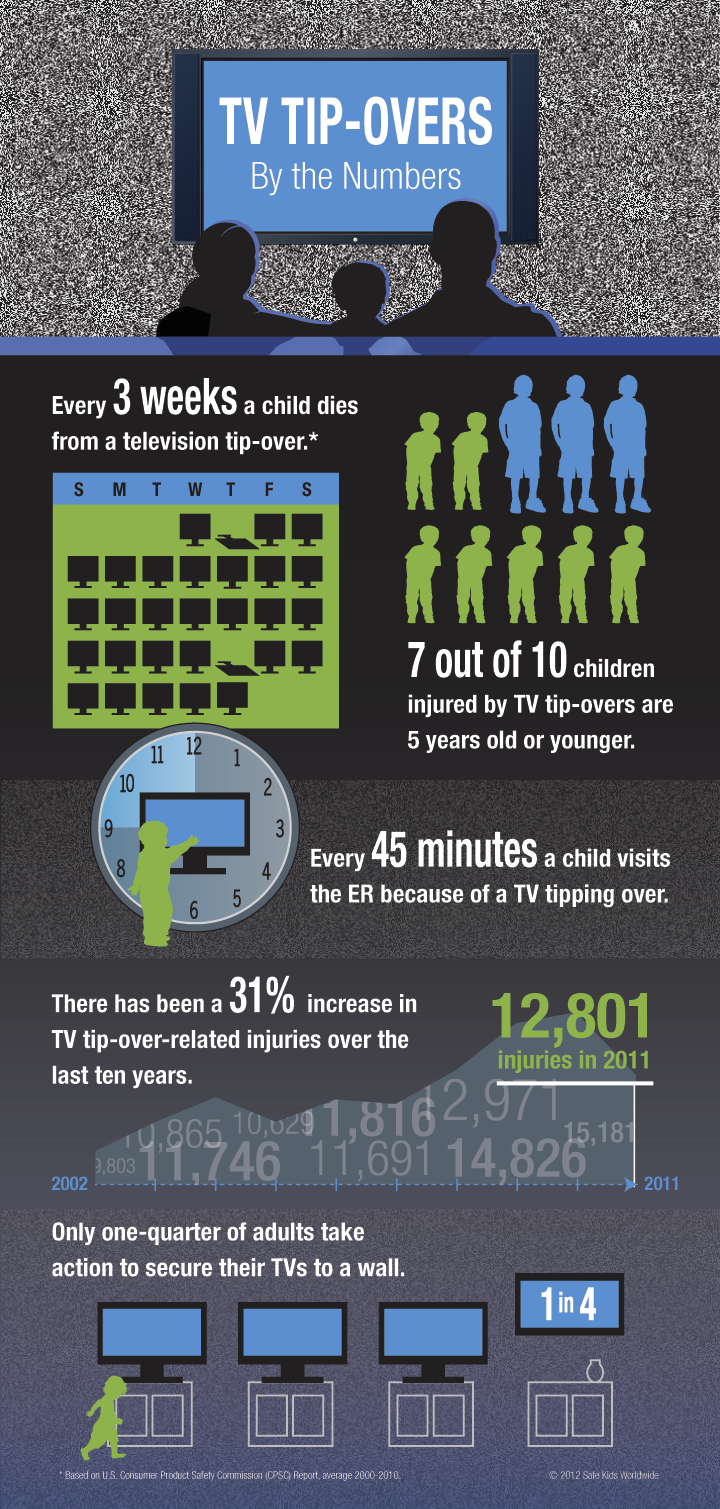 One of the reasons one of the children died was because a TV fell over; statistics show that it is a real issue. About every three weeks a child dies because of a TV tip over. 
There were a few other examples of childhood accidents in the commercial in addition to the TV flipped over, such as the overflowing bathtub and a kitchen cabinet open with dishwasher soap packets showing. Nationwide also has Nationwide's Children Hospital and partners with Safe Kids Worldwide to try and reduce the number of household accidents and childhood deaths.