Lions Homecoming Loss
Lions lost to the Grizzlies 27-14
Lions fall to the Grizzlies in Homecoming, 27-14. This loss now brings the Lions at 3-2 on the season, now 0-2 in District play.
"We as a team thought we were gonna leave the game with a win," Senior Receiver Kyle Lavin said. "We had a good plan going into the game and even with people doubting we still thought we had this game, but the game turned on us."
Lions were faced with a heavy run offense from the Grizzlies right out the gate, Lions defense played their hearts out but it wasn't enough – the Grizzlies scored 14 points in the first half from the run game. The Lions offense had a plan but it didn't click, but that did not stop them from getting to the end zone with one passing touchdown before the first half ended.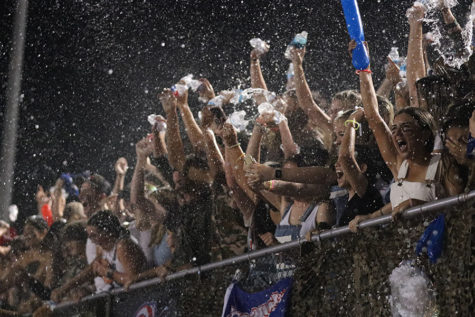 "This game was tough and very physical," Senior Defensive Lineman Joe Vasquez said. "We had to keep going and try to get stops and slow them down, but they got the better of us."
The second half for the Lions was not any better than the first. Glenn came back out with the heavy run scheme and got 13 points in the second half. The Lions defense was out on the field the whole game due to the Glenn offense, the defense was putting in all efforts but again, it just wasn't enough. Glenn's defense was shutting down the Lion offense every drive, causing 3 and outs every series'.
"It hurts," Vasquez said. "Losing on Homecoming and Letting Everyone down just really sucks. We have to keep our heads high and keep our eyes open for the playoffs."
The Lions next game will be Oct 7, at Georgetown, at 7 P.M..