Library shakes it up
Renovations made in an effort to keep Library updated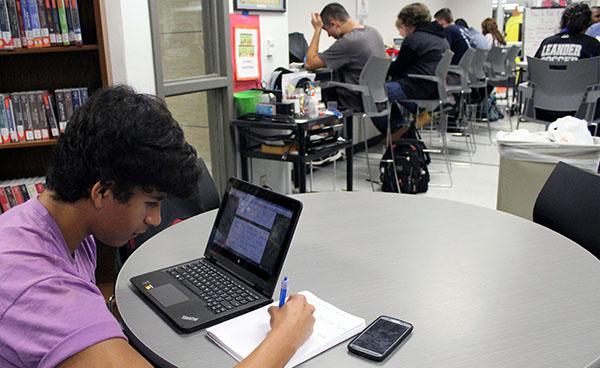 In order to keep up with the technology advances that were brought to the campus, the library renovated the space with more open areas, charging stations and collaboration centers.
"We wanted to be updated since we haven't had a renovation in a while," library assistant Any Koski said. "The librarian, Ms. Hyden and Principal Spicer were the ones who planned this. The students really seem to enjoy it because the space is more open now that we got rid of the columns and 44 computers. It is much more user friendly now."
New furniture was also bought. The whole middle space is full of chairs that have tables with outlets built into them. The chairs have desks attached to them so students can do their homework. Even though all the computers were taken out, the library has laptops to check out for the seniors.
"I am very hopeful for kids to come in and utilize the library more," librarian Sabrina Hyden said. "My hopes for the students to come in and build or create, have breakfast or lunch and get information they need, not just books. I want this to be a learning commons area not just a traditional library."
The money for this project came from multiple sources. Leftover funds from the construction budget that had helped build the science building, renewal on 20 year old furniture, which when replaced estimated at a cost of $63,000 and lastly, money from Mrs. Hyden's left over supply funds.
"We renovated because I noticed the space was kind of dark," Hyden said. "Students just didn't come in and so I wanted to make the space more open and inviting. The first six weeks of this year we had 7,560 individual students come in, not including classes. Last school semester we only had a total of 20,000 students come in. Already in the first six weeks our student visitor numbers are almost half of what they were in a whole semester. That is really exciting for me and makes me hopeful."