Project Grad denounces drunk driving
Project Grad, whose ultimate goal is to prevent students from drunk driving, is showing an example of some of the possible consequences that drunk driving can cause. This week, they have put a damaged car at the front of the school, that was wrecked because of drunk driving to meet underage drinking prevention requirements. Since, Shattered Dreams isn't taking place this year, they decided on a DUI car.
"We are hoping kids will realize one bad decision can have a major impact on his/her life," Project Grad president Vivian Plein said. "Consequences of drinking and driving are death, injury, jail, harming others, totaling your vehicle, losing your license, having higher insurance rates and fines up to $17,000."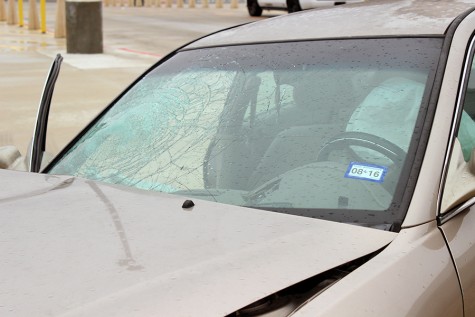 The only information that was given to them about the story behind the car, was that there was an empty Budweiser box left in the car. The box still had one full beer left in the car, which after the accident the driver took with him.
"When putting the keys in the ignition and driving away after drinking you are not only putting your life at risk, but you are risking the lives of all the innocent people you come across while driving," senior Gabby Walton said. "Operating a car while sober can be difficult in itself, adding alcohol into the mix is, in my opinion, a horrible idea. There are just so many consequences that come along with drinking and driving (DUI, cost, guilt, life, etc.) it's not even worth picking your keys up."