Yearbook Staff announces theme, receives honors at summer workshop
Editors, staffers design 2015 yearbook cover and win Best of Show
At the Texas A&M Communications Workshop in July, the Lair staff worked 4 days on the yearbook cover and design. With a professional cover artist and the blueprints of our building, the staff created the yearbook cover that will be revealed in December.
"Stephen Williams [cover artist] is absolutely amazing!" senior staffer Kayla Weir said.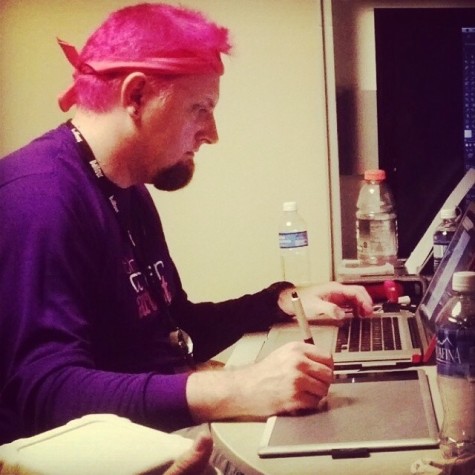 In the closing ceremony of the camp, LHS received the Best of Show in Typography award. The judging panel was made up of    yearbook teachers and graphic designers from around the country, and over 75 schools participated in the camp. What is "typography" you may ask. Typography is the use of fonts, or styles of type, that convey a mood or tone when used.
"It was an amazing achievement for our staff," adviser Mrs. Danielle Bell said. "We spent a lot of time choosing a font that will really show the connection of our theme to our school."
Every year, the staff of The Lair creates a theme for the yearbook to showcase the tone and events of the year. As we all know,
this year we have many changes on our stretch of Bagdad Road.
From the new construction of the front of the building, front office and science wing with state-of-the-art labs to a complete renovation of the original building and expansion of the cafeteria and a newly designed courtyard, the place we learn and socialize every day will definitely look and feel different.
In addition, we have over 20 new teachers and staff members coming on board along with our new principal, Mrs. Tiffany Spicer.
"There are so many changes on our campus, and we had to find a way to cover and show them all in the book," senior managing editor Katie Stone said.
With these changes and others that are sure to come, we chose the theme of "Blueprints" for this year's yearbook.
Senior editor-in-chief Janelle Heller and senior copy editor Shilo Criswell both submitted "blueprints" ideas as their themes as part of a project last year. The staff chose their ideas for this theme.
If you are as excited as we are to see the new yearbook cover and place your order to guarantee your copy, visit www.balfour.com to preorder your book.
There's much more to come, including a sneak peek of this amazing cover in October for National Yearbook Week!