The Best Night of Our Lives
The 2022 Homecoming Court
The 2022 Homecoming Court was composed of two freshmen (Payton Ortega and Dayne Caldwell), two sophomores (Ikea Roberts and Nathan Ferguson), two juniors (Lisa Cano and Joseph Marro), four senior princesses (Zoe Evans, Toryn Hooks, Kennedy Quinn, and Ella Theisman), four senior princes (Cameron Burkman, Aryan KC, Anthony Klaer, and Alex Vogel), and the king and queen (Mackenzie Wellington and Hank Badder). And like most other years, many of the members of the court didn't know they were being nominated.
"When me and my girlfriend went to vote for other people, we saw ourselves on the list," senior Prince Cameron Burkman said. "And so then we kinda thought, 'oh wait, okay, so we can actually try to be on the homecoming court."
Freshman Duke Dayne Caldwell said he was nominated as part of a joke.
"We were just talking about it in the football locker room," Caldwell said. "And then one of my friends posted on his story saying, 'vote Dayne for homecoming', and then everybody voted for me. I didn't know until the week before voting that I was being nominated."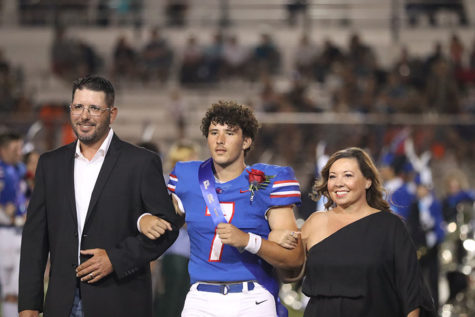 Once they were nominated, potential members of the court had to attend homecoming events.
"It was just a whole lot of social media stuff," Sophomore Duke Nathan Ferguson said. "We had to go to the parade, take pictures and go to the pep rally."
But for many of them, the homecoming court was far more than just a series of required events.
"It was just an amazing feeling," Caldwell said. "You know how Disney's like 'a wonderful, magical place'? Well, it was kind of like that. It was really fun to just be out there. It's fun to smile, fun to just walk. Especially with my mom, letting her see one of the biggest moments in my life. She was on the homecoming court too when she was in high school, so she walked down with me instead of my dad."
Others said their favorite part was the announcement during the football game.
"When I was on the field, I felt like a football player, like all the people around me were watching me and clapping for me," Ferguson said.
All the nominees said they enjoyed the experience of Homecoming Court.
"I was glad I met so many new people," Caldwell said. "And for everybody who voted for me, because they didn't have to."