Back to school must haves
5 things you need for this school year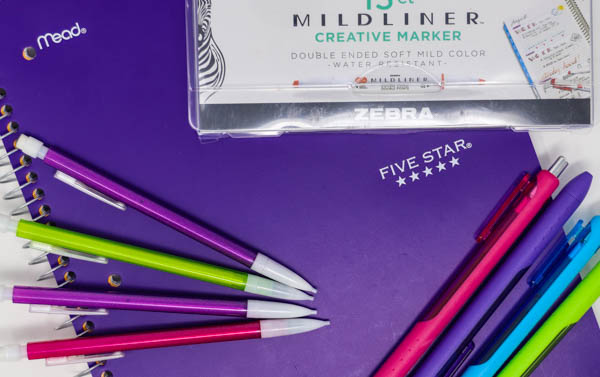 This year, we're cracking down on materials and observing which school essentials are the most efficient. We surveyed five students to see what supplies they thought were vital for the school year. These are the results. 
1. Exceed Ruled Classic Notebook 
The Exceed Ruled Classic Notebook is a bullet journal that can be used as a stress reliever, as well as a planner. The journal can be found at Walmart and other locations for $9.99, and is sold in a variety of colors. The book contains drawings, activities and places to make important notes as well as keep track of things.
"[This] bullet journal helped me through literal breakdowns due to stacks of homework," junior Jazmin Mendoza said. "Planning and writing anything I want releases so much stress and lets me be more organized at the same time."
2. Spiral Notebook Five Subject College Rule – Five Star
The Five Star Spiral Notebook is in high demand due to its durability and protective vinyl cover. This specific notebook is used by many teens, and is easy to organize. It can be found at any Walmart or Target and, depending on the location, is priced around $4.99. 
"The notebook made my backpack more neat, and I have fewer messes because of that," junior Selma Rodriguez said. "It also has a plastic cover, so it doesn't break easily, and a pocket where I can keep my homework and papers I need to glue in later." 
3. 15ct Dual-tip Creative Marker – Zebra Mildliner
Zebra Mildliners are dual-tip, pastel-colored markers that can be used as for writing or highlighting. Many teens love them for their smoothness and aesthetic, and they've gained a lot of attention from studying accounts on instagram. Overall, they are pleasing both to the eyes and to the paper. These specific markers can be found at both Walmart and Target for the price of $14.44.
"The marker is extremely smooth and allows me to write small while still being comfortable," junior Kara Wilson said. "Mildliners also let me put an emphasis on material that I absolutely need to see when reviewing my notes."
4. PaperMate InkJoy 10ct Rollerball Gel Pens
The Rollerball Gel Pens are multicolored pens that are both water-resistant and fade-proof. These pens write efficiently making them good for archival projects, and are known for being easy to grip and their comfortability. They come in a variety of colors, which makes them aesthetically pleasing. They are located at both Target and Walmart for the price of $8.94.
"They're super easy to write with, and they are heavier than normal pens," junior Emma Liu said. "They feel different and better than other pens. The color is super opaque, which makes them look great on paper."
5. BIC #2 Mechanical Pencil with Xtra Sparkle, 0.7mm, 26ct – Multicolor
BIC Mechanical Pencils are known for being very easy to write with and allow people to write smaller when given assignments with little to no room. They come in a variety of colors, and can be found in stores such as Walmart or Target for $3.99 or less. 
"I personally like skinny mechanical pencils more than regular pencils," senior Nekayla Knight said. "The lead is very little, so it makes it easier to write in small spaces for assignments. They are less expensive, so you can get more for less."