Book Review: And Then There Were None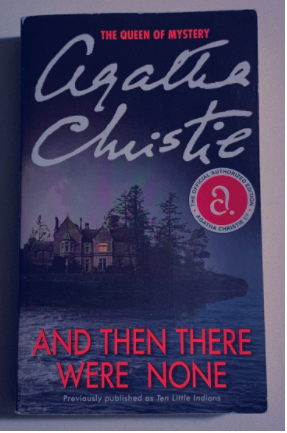 Murder: the perfect way to start your day. I'm sure Agatha Christie, the award-winning author of And Then There Were None would agree. Outsold only by the Bible and Shakespeare, Christie proves herself yet again in this genius murder mystery. And Then There Were None is a thrilling novel about ten strangers who are invited to a mysterious island off the Devon coast. Secrets are spilled, and murder ensues. 
And Then There Were None may seem like an average whodunnit at first glance, but I'm afraid I have to disagree. Christie's masterful writing ability allows her to maintain an eerie and strange atmosphere that will keep you at the edge of your seat for the entirety of the book. Its length is also something to take note of. Most mystery novels tend to be drawn out, but And Then There Were None is only 272 pages long, compared to the usual 350-370. 
While And Then There Were None has its strengths, its Achilles' heel is its characters. 272 pages weren't enough to develop the plot and flesh out the characters. As a reader, you aren't able to get to know the characters on an intimate level. And considering that there's ten of them, it's pretty hard to keep track of them all.
But don't let that stop you from reading this literary masterpiece. This murder mystery will have you wishing it would never end. Overall I give this book 4.8/5 stars.