Reclaiming Home: "The Mandalorian" Season Three Review
A review on season three of "The Mandalorian"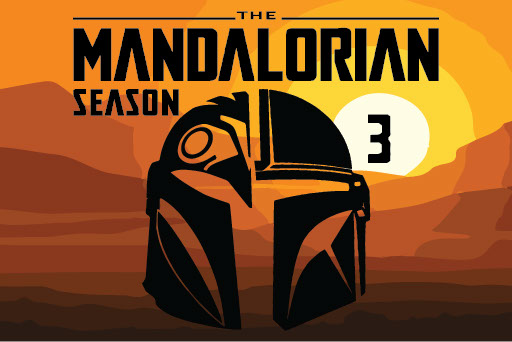 Season three of "The Mandalorian", set not long after "Return of the Jedi", is one of the latest additions to the Star Wars canon. 
The season starts with Din Djarin, the eponymous Mandalorian, played by Pedro Pascal, trying to redeem himself after taking off his helmet, so that he can go back to his covert. The first few episodes are spent like this, with him trying to find the living waters in the mines of Mandalore and meeting up with old friends like Bo-Katan Kyrze, played by Katee Sackhoff, Greef Karga, played by Carl Weathers and others. 
Let's start with the positives. First of all, season three is a great conclusion to the series, pulling together plot threads from across the previous two seasons and managing to resolve most of them, while still leaving the series open to a fourth season. We also get to see all of the characters grow during this season, from Grogu, played by David Acord, learning to use the Force more offensively and becoming more independent, to Bo-Katan becoming the leader of the Mandalorians.
But there were some negative aspects of this season. For one, the gap between seasons two and three was filled by "The Book of Boba Fett," which felt more like season 2.5 of "The Mandalorian" than a separate show. It had events that were a major part of "The Mandalorian" plot, like the Mandalorian's reunion with Grogu, and you wouldn't be able to understand season three without seeing those scenes. Another issue I had with this season was how it moved between storylines in the first few episodes. While it did pay off eventually, in the moment the different storylines felt unnecessary and almost annoying. 
Finally, like I said earlier, this season is a perfect end to the series. Which is why, even though the ending left things open for a fourth season, I really don't think it's necessary to have one. So, I honestly don't like the fact that the showrunners are already planning one. I'd be fine with something episodic, like an adventure-a-week, but I don't think we should have another fully plot-based season.
Despite the negatives I listed above, this was actually a very enjoyable season, and it's perfect for any Star Wars fan. 4/5 stars.