Best of Netflix: The Breakfast Club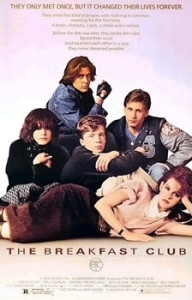 The popular 80's movie, The Breakfast Club, is now available on the widely popular movie streaming site, Netflix. The movie is about five high school students, all belonging to different stereotypical groups, that all happen to meet in detention on a Saturday. Starring as the high school students are Judd Nelson as John Bender, Molly Ringwald as  Claire Standish, Emilio Estevez as Andrew Clark, Ally Sheedy as Allison Reynolds, and Anthony Michael Hall as Brian Johnson.
   As the day progresses, each student reveals intimate details about their own lives and their own character. Through this they are able to learn that they have a lot more in common than they thought. "They met only once, but it changed their lives forever. To the world the world they were labeled as a criminal, a princess, an athlete, a basket case, and a brain, but to each other they would always be known as "The Breakfast Club."  
   According to the website, Internet Movie Database, The Breakfast Club was rated a 7.9 out of 10. The Metacritic gave it a 62% and critics from Rotten Tomatoes gave it a 91%. Personally, I agree more with the first two reviews cited. While the movie was entertaining, it could be said that the movie was anticlimactic. There was no one moment that blew my mind. The originality of the plot, having a new take on the "high school experience" was impressively clever. The change in the characters' dynamic with one another was very clear yet entertaining. The cast did a phenomenal job playing their characters.
All in all, the movie was very well done. I give the movie a 8.25 out of ten.