Chillin' With The Bands
Sophia Smith's experience with backstage passes to the Killing Roads concert.
It was surreal standing so close to them, listening to them tell stories like we were in kindergarten on the classroom carpet.
On Sept. 1, I was picked up early from school to my dad waiting in the parking lot with a massive smile on his face. Today was the day. We were headed to the Killing Road 2022 Tour at the Germania Insurance Amphitheater, where we would watch Fire for the Gods, The Hu, Megadeth and Five Finger Death Punch perform just an arm's length away. We also scored backstage passes to be able to tour and meet the bands.
We arrived at around 3:30 pm, where we checked in with security and watched a question and answer forum with Megadeth. After the Q&A we moved backstage to get a tour, where I was able to hold one of the guitars that Five Finger Death Punch was performing with that evening.
After touring and meeting members of staff, we were led into a small room with three long tables filled with people sitting and eating the Korean BBQ that was catered for us.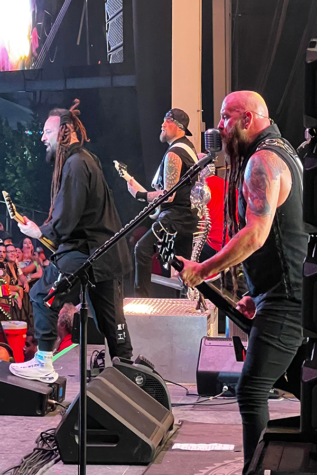 We went to the cafeteria to eat dinner before the show started at 6:15 pm. When we walked into the small room, the three long tables had quite a few people sitting and eating. I got my food and sat down next to my friends, at which point I realized that the people sitting around me are. They're all of the bands that I would soon see performing. Just a few people down from me was Kiko Loureiro, the guitarist for Megadeth, and at the table behind me was The Hu. Seeing them just sitting and eating and talking was a surreal experience, and it finally dawned on me where I was and the opportunity I was given.
After we went backstage where I officially met Dave Mustain, lead singer and guitarist of Megadeth. My dad and I were starstruck the whole time. I can't describe the experience of actually shaking his hand, telling him my name, and him telling me I had a very pretty name. It's something I'll brag about forever. (Also, I think it's funny that no one can question whether or not I'm a "real fan" of Megadeth, because I have a picture with Dave Mustain. How can you refute that?)
We then went and watched The Hu perform from the pit, and to say it was incredible is an understatement. I had never heard a song from them until that performance, and I don't think I'll ever hear a song like it again. The bass reverberated in my chest and the vocals were intoxicating. The sound was so unique and so intense that I couldn't help but watch in a trance-like state. 
After a short break, we were back in the pit to finally watch Megadeth perform. The energy was electric. The stage and lights were beautiful, and the talent oozing from the stage was almost disgusting because of how perfect it was. To think I was so close to Megadeth performing their iconic songs is crazy to think back on now. Everyone, from the pit to the seats, were on their feet and headbanging along to the songs. I even got to see a mosh pit, which I honestly thought were just legends. The crowd unity and the electrifying music was an experience I'll never forget.
We then went back to the cafeteria while we were waiting for Five Finger Death Punch to perform. I sat down, ears still ringing from the loud music and screaming crowds, and was finally able to catch my breath for the first time in hours. My back hurt, my throat was sore, and my calves were aching from standing so long. I heard the doors open, and I looked over only to be greeted by the members of Megadeth, led by Dave Mustain. I smiled at Dirk Verbeuren, who brightly smiled back at me, much to my awe. I watched, frankly very amused, as Dave Mustain searched around in a freezer for a popsicle (earlier he had told me that he had already had four that day) and when he got one he smiled and left with the rest of his band.
When Five Finger Death Punch was ready to perform, we moved backstage to stage left, where I got to sit on the stage and watch Five Finger Death Punch perform just a few feet away. Seeing that huge crowd of people cheer from the stage was incredible, and the times that the performers would look over at us and play like they were playing just for us, was honestly the coolest thing I've ever done. Near the end of the performance, my two friends and I moved down to the pit so we could watch them from the front, where I screamed the loudest I had that night. The energy down there was intense but very fun. I'll never experience anything like it again.
After they were done performing, I went back on stage where I got a few more pictures, including one with Chris Kael. Then my dad and I headed off, with our new band shirts, VIP gifts, and exciting new stories to tell. I was extremely tired after spending 9 hours at a metal concert, but I wouldn't change that experience for the world.