Clockwork Angel
By Alexandria Ceballos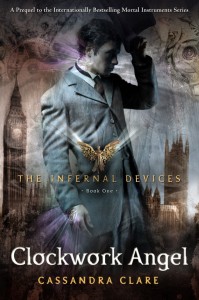 Clockwork Angel is the first book in the Infernal Devices, a prequel to the bestselling series The Mortal Instruments by Cassandra Claire. The time and place is in London England, during the reign of Queen Victoria. It focuses of sixteen year old Tessa Grey, who comes in search of her brother Nate. Once there, Tessa is abducted by the Dark Sisters, who are members of a mysterious organization called the Pandemonium Club.
Tessa learns that she herself is not human and has a rare ability to change into someone else. And that the head of the Pandemonium club, the Magister wants Tessa's powers for his own. Hunted and alone, Tessa seeks refuge with the Shadowhunters of the London Institute. There she feels drawn to two very beautiful boys: Will, dark haired, blue eyed, very arrogant; Jem, fragile and hiding a deadly secret.
Desperate to find her brother, Tessa agrees to use her powers to help the Shadowhunters in their quest to learn the source of the corruption that has been going on in London's underworld, a plot that threatens to destroy everything.
Clockwork Angel was the best prequel and steampunk book that I ever read.  A few characters from the first three books in the Mortal Instruments series are recognizable. Filled with Victorian elegance, and the dark side of London, Clockwork Angel is one of the best books that I ever read. I recommend it to those who love historical fantasy. Be sure to look out for Clockwork Prince, the second book in the Infernal Devices trilogy that comes out very soon.