Clockwork Prince
By Alexandria Ceballos
   Clockwork Prince is the second book in the Infernal Devices trilogy by the New York Times bestselling author Cassandra Claire. After the events of Clockwork Angel, Tessa Grey and her friends find themselves in a lot of trouble. Charlotte's position as head of the Shadowhunters' Institute is threatened by the forces of the Clave. Additionally, they must find the Magister and stop his evil plans.
   As the group learns more about the Magister's past, they realize his hatred for Shadowhunters, warriors who are half- human and half-angel, is very personal. He blames them for the death of his family and will stop at nothing to get his revenge.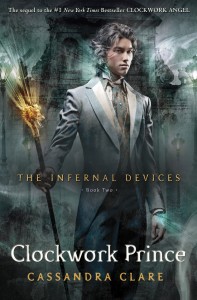 With the help of friends Will and Jem, Tessa journeys to Yorkshire, England to find out more information about the Magister's whereabouts. However, a clockwork monster stops them and warns them that the Magister knows their every move. Realizing that there is a traitor in their midst, the trio finds themselves in a dangerous situation.
   Like the first book, Clockwork Prince is a page turner. Filled with love, friendship, romance, and betrayal, this is a must read for fans of the Mortal Instruments series. Clues about Tessa's parents are revealed and it becomes clear that Will's past will come back to haunt him.
  The final book of the series, Clockwork Princess, will debut this winter.