Dearly Departed
By Alexandria Ceballos
Dearly Departed is the first book in a new series by Lia Habel. The year is 2195, and the place is New Victoria. The setting is a high-tech nation that is filled with the manners and fashion that is the updated version of the Victorian era. But high society teenager Nora Dearly would rather learn more about military history rather than attending balls and tea parties. After the death of her father, Nora finds herself in a dower situation when her spiteful aunt plans to marry her off for money.
Fate interferes when an army of walking corpses kidnaps her and takes her to be safe from the enemies of her country. There she learns about the Laz, a deadly virus that can bring the dead back to life. Then she meets Bram, an undead solider whom she feels drawn to. But the disease would stop at nothing to keep them apart.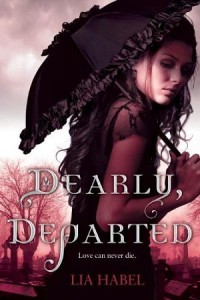 Dearly Departed is a page turner that kept me wanting more. Lia Habel has blended two very different genres into a wonderful tale of love, suspense, and zombies! Nora Dearly is my kind of girl who would stop at nothing to be with the one that she loves as we are introduced to a wonderful cast of unique characters. Be sure to read the sequel Dearly Beloved, coming soon to book stores.