Event Review: Cirque Du Soleil Kooza
Debuting in 2007 Kooza has astounded it's audience for nearly ten years
It was in the early 1980's when the idea of Cirque Du Soleil leaped into action in a village east of Quebec. Among the young theatre group, Les Èchassiers de Baie-Saint-Paul (The Stilt walkers of Baie-Saint-Paul) was the founder of Cirque, Guy Laliberté. It wasn't until 1984, Quebec's 450th anniversary of discovery, that the province sought an event that could share the festivities all over Quebec and Laliberté convinced the organizers that a tour of Cirque Du Soleil would do the trick.
Since it's creation, Cirque has been to Austin four times with shows such as Varekai, Alegría, Quidam, and Michael Jackson THE IMMORTAL World Tour. The most recent, Kooza, has been in Austin since September 2nd and finished on October 8th.
 Kooza was outstanding in every sense, and sometimes unbelievable due to the magical feel of the show. Described as going back to Cirque's roots and classic circus traditions, Kooza is about a childlike and melancholy loner character called 'The Innocent' who is trying to find his place in the world. Suddenly, 'The Trickster', a charismatic and sophisticated ringleader of the Kooza world, appears in a delivered box and brings life to The Innocent's grey world. This life is delivered with bold and breathtaking acts such as contortionists, a double tight-rope, trapeze artists, the Wheel of Death, acrobats, and many more astonishing performances.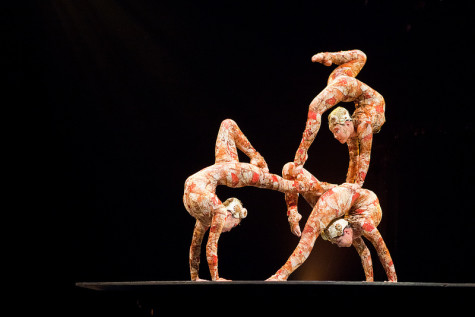 The diverse yet synchronized colour schemes and stage settings helped to tie these amazing performers into a story of finding one's self. Alternating blue, indigo, purple and white lights in the beginning contrast with the bold and courageous reds, golds and whites that alternate across the costumes and mood of performance. Both of which, allow the audience to see every intricate detail of the makeup and elaborate costumes that mimic that of the Kooza world, ornate yet amusingly interesting. Kooza was like Alice's Wonderland, with some twists. Most of which were in mid-air.
A theme of self-discovery through creativity and stepping outside of one's comfort zone is prominent and inspiring throughout the show as the world of Kooza is actually a figment of The Innocents imagination. Spontaneous and burlesque like characters such as the King of Fools, his two court jesters, and the 'bad-dog' help to guide The Innocent to find himself while performing interactive and comical skits that aid to ease the heart-stopping stunts.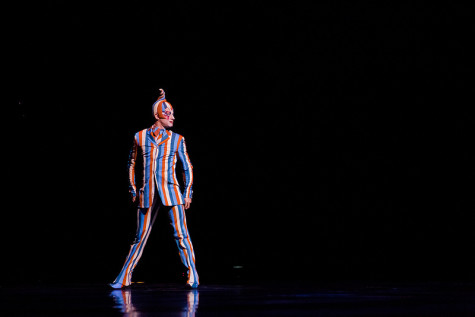 From beginning to end the audience is able to make a connection with these characters and when the Kooza world recedes, the audience is left with an almost wistful feeling that reflects that of The Innocents when his own Kooza departs. But, all in all, Cirque Du Soleils Kooza's amazing performers, bold and ecstatic scenery, fascinating and interactive characters is worth bending over backwards and has earned itself a well-deserved 5/5 stars. Make sure to follow Cirque Du Soleil performances in the future of Austin.