"Good Kid, m.A.A.d City" Review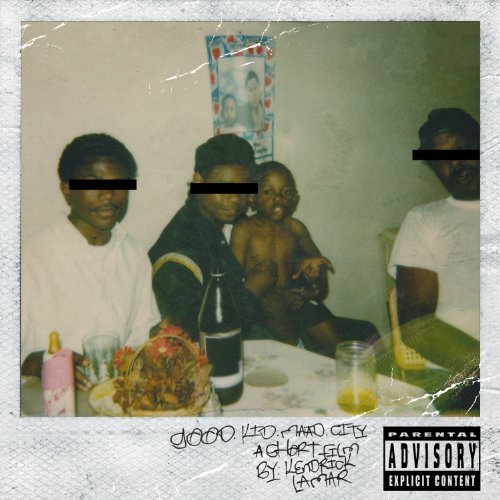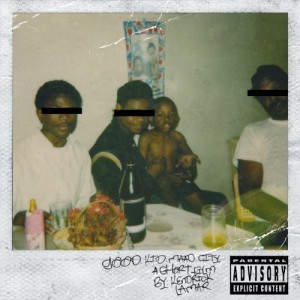 "Good Kid, m.A.A.d City" is the newest album of the great up and coming rapper Kendrick Lamar, the second LP to come out after his first album "Section.80". Kendrick Lamar was born and raised in the infamous Compton city, and tells the listeners what life was like in the Compton area, or any ghetto area. From the start Kendrick grabs our attention and shows a large part of his story through his cover art; which shows baby Kendrick resting upon the knee of his uncle and family members around, a bottle of malt liquor on the table, everyone's eyes are blacked out except for young Kendrick's, showing his innocence and the world he was brought up in.
Kendrick uses very heartfelt and thrilling lyrics to grab the listeners. Kendrick tells strong lyrics to help put more feel and emotion in the stories from his hard life in Compton, with nine and 12 minute long tracks that are told through Kendrick of day to day life that can be related to the great Outkast album "Aquemini" and even Nas's "Illmati," Kendrick can be compared to such rap legends such as Nas; hoping that he will have longevity as the "savior of rap music."
"Good Kid, m.A.A.d City" tells the different struggles of the Compton lifestyle that Kendrick had to confront, listening to the album was like entering his lost diary, showing his endeavors, as if growing up next to him; the album gives a socially aware message through a series of short stories that is told through Kendrick's perspective, and lyrics give a deep feeling of emotion. Kendrick brings a strong message without beating other rappers over the head with it or preaching.
From "The Art of Peer Pressure" it says "Smoking on the finest dope, drank until I can't no more, really I'm a sober soul but I'm with the homies right now, and we ain't asking for no favors, rush a n***a quick then laugh about it later, really I'm a peacemaker but I'm with homies right."Kendrick smokes and drinks, but only with his friends because he feels peer pressured when all his friends are doing it around him. Kendrick is sending a message to all people out there that are doing the wrong things (smoking/drinking and criminal activity) under the influence of their friends which is popular very much so in every society. He seems to have taken the message and lyrical value of his last LP "Section.80" and deposited it into "Good Kid, m.A.A.d City", but to a higher caliber, and effectiveness. the beats of higher quality they are crisp and fresh sounding, the production value just improved quite a lot.
"Good Kid, m.A.A.d City" is a breath of fresh air to the rap community. It is truly an amazing album and will be considered and instant classic of this decade; giving rappers a whole other level to look up to for inspiration.