Movie Review: Divergent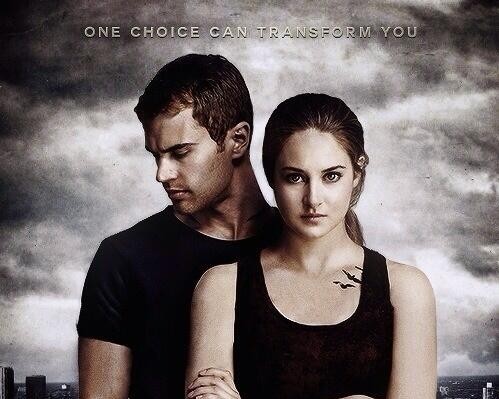 Neil Burger brings Veronica Roth's Divergent to real life in an action, adventure, science fiction film starring Shailene Woodley as Beatrice 'Tris' Prior and Theo James as Four.
In a dystopian, post-apocolyptic Chicago, there are five factions, or groups, that people can choose from at a Choosing Ceremony when they reach a certain age. The factions include Abnegation, the selfless; Amity, the kind and peaceful; Candor, the honest; Erudite, the knowledgeable; and Dauntless, the brave. Before the Choosing Ceremony, each person takes an aptitude test to see which faction they belong in, but something is different about Beatrice: she gets results that are very rare and is considered to be dangerous, and she discovers what she really is: divergent. During her initiation, Tris learns of a plot to get rid of all divergents, along with members of the government. In a race against time, Tris and Four must stop the plan and save the people.
The film was aesthetically pleasing, providing the audience with beautiful scenery and realistic effects. The music was appropriate and fit each scene well, providing suspense, action, or drama. Casting was perfect, each actor inhabiting their character as if they were one and the same. Shailene Woodley and Theo James, along with the other actors, brought their characters to life in this futuristic city.
Although it lasted 139 minutes (roughly two hours and 19 minutes), there was never a dull moment. Of course it wasn't packed with action throughout the entire movie, but even the quiet moments were breathtaking. Portions of the book were not featured in the movie, but it didn't take away from the main storyline, only from character interaction.
Released in theatres March 21, Divergentstill has weeks left in store at theatres. Theatres include Cinemark Cedar Park at 1890 Ranch, Alamo Drafthouse Lakeline, The Moviehouse Eatery and Dine-In, Flix Brewhouse by Galaxy Theatres, Regal Gateway Stadium 16 & IMAX, Cinemark 14 Round Rock, Alamo Drafthouse Village, City Lights Theatres – Georgetown 12, Galaxy Highland 10, and Cinemark Hill Country Galleria. Tickets can be bought online for most theatres or at the box office.
I can't wait to see what's in store for Insurgent, the next book in the Divergent trilogy and, hopefully, the next movie. Out of five stars, this movie deserves 4.8.