Restaurant Review: Brooklyn Heights Pizzeria
Expanding its business into Leander/Cedar Park, Brooklyn Heights Pizzeria opened in mid-August this year and has become a local hotspot for pizza and pasta. The menu offers a variety of items to be personalized, delivered, carried out or eaten inside. Offering appetizers such as mozzarella sticks and fried ravioli, with entrées of hot wings, lasagna, calzones, the choice to customize your own pizza and panini, and a few desserts,their menu is considerably pricey for the quality of food.
The mozzarella sticks and ravioli are a couple of the things that stood out taste-wise. As an item that you could find almost everywhere, the moderately sized mozzarella sticks were served warm, crunchy and swelling with cheese, which was entertaining to eat and stood strongly compared to other local versions of the same item. The three-cheese and spinach ravioli served with rose-cream sauce was also something to remember in that it was a soft, colorful and creamy ravioli that helped the stale tasting bread to even out in taste and texture.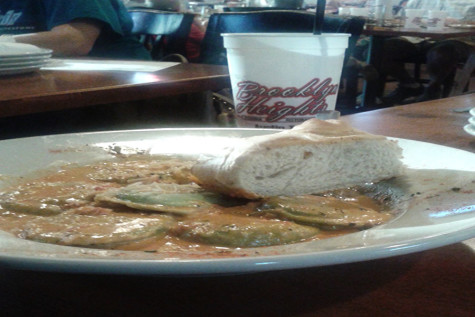 While the food is good and just that, the average price for an appetizer is up to $7.50, an entrée runs between $10.50-$26.99, dessert can be up to $6.99, and a fountain drink at $3.00. It tastes only a little better than what you could find in the frozen food section, but much more greasy the next day as leftovers.
Despite the food, the service is something to be commended. With a family-friendly atmosphere, attentive and sociable service and clean, well-kept surroundings, Brooklyn Heights' environment makes the price seem more worthwhile and enjoyable in the long run to leave a favorable  impression on the customer.
With Brooklyn Heights' normal-tasting food, some better than others, and their commendable service, they have certainly left an impression of mixed feelings.
Altogether, this visit to Brooklyn Heights has earned a 2.5/5 from this reviewer.