The New League on the Block
The Alliance of American Football is looking to make a name for itself.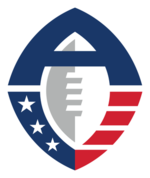 The Alliance of American Football (AAF) is a professional football league that first aired six days after Super Bowl 53. The AAF is made up of 8 total teams with 4 teams each in the Western and Eastern conference. The league was founded by Charlie Ebersol and Bill Polian on March 28, 2018. After Ebersol had watched a documentary over the failed XFL in the early 2000s, he became motivated to create a new professional league of his own.
The AAF is a league that can grow huge popularity in the coming years for football fans that are looking to still be able to watch games even after the NFL season. The AAF is not looking to be a competitor to the NFL but rather a substitute. The league can flourish and become a development league for new players that are looking to show promise and eventually get a spot on an NFL roster.
The AAF is a spring football league that is meant to keep football fans entertained while waiting for the NFL and college football to begin. The regular season consists of only 10 weeks and then a playoff bracket where teams will compete for the championship game. The rules of the league are also a bit different most notably, no kickoffs after a score, onside kicks are now a 4th down attempt, and also introduced the "sky judge" who is one person that can review plays to make sure there are right calls on the field.
After watching the first few weeks of the season, I can say that the league shows true promise. Most of the games of the first week were pretty competitive and entertaining to watch. The most complete team is looking to be the Orlando Fleet who completely stomped the Legends 40-6 in the first week and are already leading their conference at 4-0. The next team behind them is the Birmingham Fleet who is sitting at 3-1, second in their conference. The two powerhouses will play against each other in week 5 which will hopefully be another fun and entertaining game to watch.